Research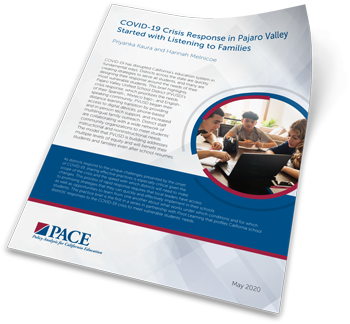 On March 16th, Santa Cruz County's shelter-in-place order suddenly changed the lives of thousands of families in Pajaro Valley Unified School District (PVUSD). But though the district shuttered its schools for the remainder of the school year, administrators quickly built on existing relationships with their community to identify students' basic needs and smoothly transition to distance learning.
The district prioritized equity throughout their early COVID-19 crisis response: distributing digital devices alongside multiple forms of technical support; creating multilingual outreach to inform students and families about social distancing protocols; and quickly expanding their communication plans to respond to families' access and language needs. District leaders worked with teachers and families to ensure that all policies, procedures, and practices put into place to respond to COVID-19 were designed with the district's most vulnerable students in mind.
This report explains how PVUSD created a crisis response that prioritized the needs of its large Spanish-, Mixteco bajo- and English-speaking communities while serving every student in the district. Key takeaways include practices the district created to increase family engagement and outreach and improve instructional access for English learners.
This is the first in a series of reports from Pivot Learning and Policy Analysis for California Education (PACE) profiling local and state leaders with equitable COVID-19 response plans.