Pivot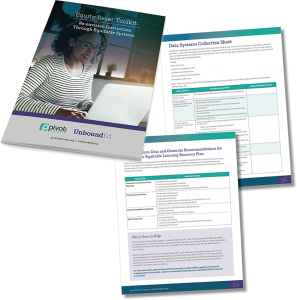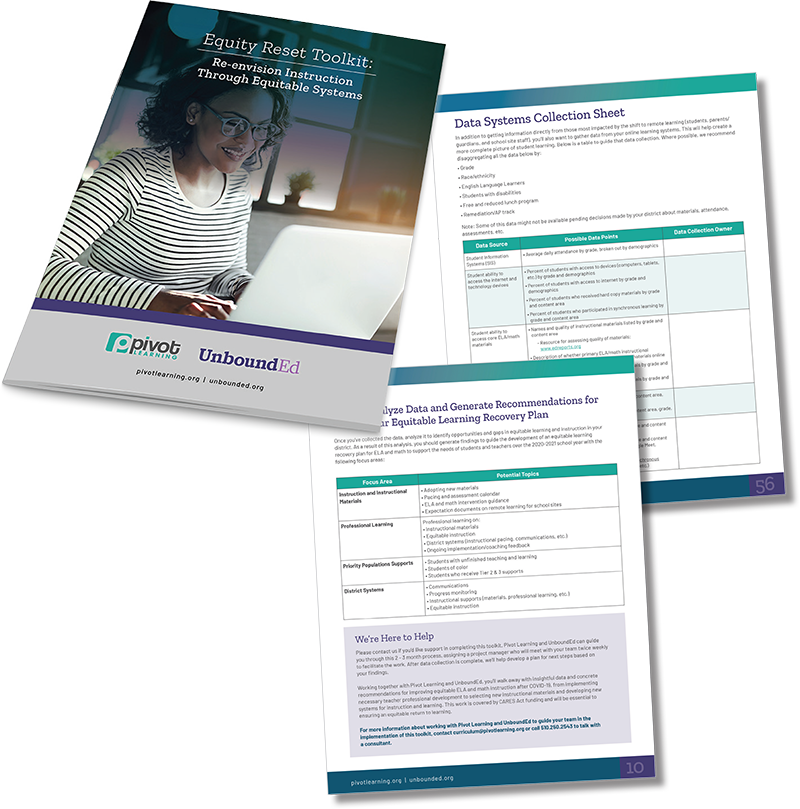 While the 2020 pandemic affected all aspects of life, arguably one of its biggest disruptions was to our public education system and the more than 50 million students in it. Our most vulnerable student populations were especially impacted by school closures and social distancing, where they were often left without access to equitable instruction.
COVID-19 certainly highlighted and deepened the inequities in access to high-quality education. But districts can take this moment to not only respond to the needs resulting from learning disruptions last spring, but re-envision how their systems support educational equity.
Download Our Free Equity Reset Toolkit
Pivot Learning* and UnboundEd have created a free Equity Reset Toolkit that provides district leadership teams resources for a nine-week data collection and analysis process focused on equitable learning recovery in K-12 ELA and math. Download this toolkit to create a data-driven equitable education recovery plan for restructuring or building systems to support equitable ELA and math instruction that can be adapted for in-person, remote, or blended learning.
You are downloading a zip file that contains 7 PDFs. The first PDF in the file is the full toolkit. We have also provided each of the surveys included in the full toolkit PDF as individual files.
Free Webinar:
Learn How to Use the Equity Reset Toolkit

Join Pivot Learning and UnboundEd for a free webinar Wednesday, July 15 from 3:00 – 4:00pm ET (12:00pm – 1:00pm PT) to learn how to use the Equity Reset Toolkit to discover unfinished instruction needs as a result of school closures and how to develop a plan to address these need equitably.
We're Here to Support Your Work Toward Equitable Learning Recovery
Want assistance completing the steps in our Equity Reset Toolkit? Pivot Learning and UnboundEd will work remotely alongside district leadership to facilitate data collection, guide data analysis, and make customized recommendations for an equitable learning recovery plan based on stakeholders' unique insights.
As part of our services, we will:
Guide the 2-3 months of equitable learning recovery research and analysis outlined in the Equity Reset Toolkit
Lead weekly virtual meetings to keep your team on track
Deliver actionable, customized recommendations for building an equitable learning recovery plan for ELA and math to support student and teacher needs, including:

Instruction and intervention materials
Professional learning
Supports for priority students
District systems

Provide ongoing professional learning for your district leadership team on equitable instruction and high quality assessments for learning
Because this work is so critical to learning recovery, the cost of these services can be covered by CARES Act learning loss funding. Learn more about partnering with Pivot and UnboundEd in this flyer.
Fill out the form below to talk with one of our instructional experts about working with us to implement our Equity Reset Toolkit in your district.
*Pivot Learning refers to both Pivot Learning and our subsidiary, the Consortium on Reaching Excellence in Education (CORE). Learn more about CORE at corelearn.com.
Op-Ed
Written by Heather J. Hough, Policy Analysis for California Education; Jennifer O'Day, American Institutes for Research; Arun Ramanathan, CEO, Pivot Learning; and Carrie Gloudemans Hahnel, Independent Education Consultant
Published by our partners at Policy Analysis for California Education (PACE)
In preparing for the next school year, California state policymakers must set clear statewide expectations for teaching, learning, and student support, regardless of whether instruction is online or in person. This spring, local school districts scrambled to adapt to COVID-19 with a wide range of responses largely focused on securing delivery of online resources. Now is the time to shift the conversation back to the core purpose of school: learning. The state should establish a minimum amount of instructional time; create an instrument of diagnostic assessment and require its use; adopt instructional continuity plans; and advocate for and secure additional funding.
To read the full Commentary visit PACE.
Pivot
Districts across California have stepped up, shifting their practices to serve students even as shelter-in-place policies have shut down brick-and-mortar schools. Many districts have come up with innovative ways to ensure all students continue to receive the supports they need. The most successful have designed their crisis response around their most vulnerable students.
This COVID-19 Crisis Response series from Pivot Learning and Policy Analysis for California Education (PACE) profiles districts across the state who have implemented policies and practices centered around equity to ensure that the needs of every student, especially the most vulnerable, are met during the pandemic. Read each report to review response strategies that have shown promising results to help you plan and refine your own strategies to better serve students. We also invite you to watch our on-demand webinar to hear how two districts, Pajaro Valley Unified and Mother Lode Union, initially addressed students' immediate needs following school closures and how they are approaching strategic planning for the months ahead.
COVID-19 Crisis Response Report: Pajaro Valley Unified School District
This report explains how PVUSD created a crisis response that prioritized the needs of its large Spanish-, Mixteco bajo- and English-speaking communities while serving every student in the district. Key takeaways include practices the district created to increase family engagement and outreach and improve instructional access for English learners.
COVID-19 Crisis Response Report: Mother Lode Union School District (MLUSD)
Educators in MLUSD used collaboration and targeted universalism to ensure that no child slipped through the cracks during the transition to remote learning. Learn how they have gone to great lengths to ensure every student in the rural district, especially their most vulnerable students, has access to healthy meals and resources to continue learning in the midst of this crisis.
This series of reports will profile local and state leaders with promising and equitable COVID-19 response plans. Visit this page periodically to read new reports!
Op-Ed
At the beginning of the week, we released a brief statement from Pivot Learning condemning the murder of Mr. George Floyd. As the week has progressed, I wanted to share some additional personal reflections.
Decades ago, I walked into my first classroom of students with emotional disturbance. The first thing I noticed was that nearly all of the students were Black males. I pointed this out to the principal who seemed a bit confused by my remark. It wasn't a surprise to him. He just assumed it was the way things were. The kids were emotionally disturbed. Because their parents were emotionally disturbed. And their parents were disturbed because their communities were emotionally disturbed.
There was no mention of white racism. Centuries of state-sanctioned violence and oppression. Or the immense privilege of the mostly white people applying labels to Black youth that vastly diminish their chances of graduating, attending college, avoiding prison and earning a living wage—essentially the rest of the lives. I began questioning who was emotionally disturbed and who wasn't.
We don't need another grotesque video of the killing of yet another Black man or woman by the police to answer that question. Our racist system is emotionally disturbed. Frankly, it's disturbing that the only times that most Americans are moved to action is when the murders of Black men and women like George Floyd, Ahmaud Arbery and Breonna Taylor are caught on film and provoke mass demonstrations. Really, what good is outrage unless it changes the mundane, daily manifestations of that racist system in beliefs, policies and practices? In our schools, this racism begins with the belief that Black children are not as smart and capable as white children, and exacerbates it by instructing them that they need to conform if they ever hope to succeed.
We can protest police violence and racism against Black Americans and hope that our voices, combined with many others, produce changes in policing and the criminal justice system. And, for those of us in public education, we should also be looking deeply within ourselves, questioning our beliefs, and assessing whether our "normal" practices in teaching, staffing, funding and discipline address racism and injustice or promote it. And if they do, we must end them, no matter how long we've done them and how hard it is to make these changes. Until we do, we should be the ones labeled emotionally disturbed.
Dr. Arun K. Ramanathan
CEO, Pivot Learning
Pivot
What can we learn from California school districts' early response to COVID-19? 
Find out during this on-demand webinar, presented by Pivot Learning and Policy Analysis for California Education (PACE). To aid in both local and state decision-making, Pivot Learning and PACE have been documenting promising practices at school districts in California. In this webinar, we'll highlight how two districts, Pajaro Valley Unified and Mother Lode Union, initially addressed students' immediate needs following school closures and how they are approaching strategic planning for the months ahead.
You will hear from:
Two district superintendents about how they planned their early response, what they will prioritize in their summer planning, and how they will begin to tackle the work that lies ahead in the 2020-21 school year
Speakers from the county level about how county and state agencies can best collaborate with school districts in the upcoming months
Pivot Learning researchers about the findings from our research briefs about these two districts
Watch the webinar to hear a discussion about the challenges and the early problem-solving that we have seen at the local level in the early stages of COVID-19 response. 
Speakers:
If you are unable to join the live webinar, please go ahead and register. We will email you a recording to watch at your convenience.
Pivot
Take a look at the latest updates and information about how Pivot Learning, our subsidiary CORE, and our partners are continuing to support educators, students, and families during the COVID-19 crisis. We're excited to share our free Equitable Learning Recovery Toolkit created in collaboration with UnboundEd, insights from experts about the initial challenges and needed district supports for English Learners, our dyslexia and word-reading difficulties online resource library, and much more.
Pivot
How will you ensure teachers and students have access to high-quality instructional materials that support distance learning this fall?
This spring, COVID-19 changed our collective expectations for teaching and learning. School closures resulting from the COVID-19 pandemic have forced educators to face innumerable challenges. One of the more persistent challenges: adapting instructional materials for distance learning.
Watch this webinar with the California Department of Education and CalCurriculum to get advice for implementing a data-driven plan for fall ELA and math instruction that provides access to high-quality materials to every student regardless of their distance learning situation.
In this webinar you'll:
Reflect on the current context for distance learning
Review the role of instructional materials in distance learning
Assess the quality of your materials and prepare those materials for distance learning
Discover supports available to help with planning for the beginning of next school year
Pivot
Among the students who have been impacted most by COVID-19 school closures and the move to remote learning are those with learning disabilities such as dyslexia and other word-reading difficulties. To help educators better understand these students' challenges and prevent skill deficits from becoming large achievement gaps next fall, Pivot Learning and our subsidiary, the Consortium on Reaching Excellence in Education, has created an online resource library. In it, you'll find foundational information to build knowledge of dyslexia and word-reading difficulties along with resources to inform more effective, evidence-based instruction.
Resource Library Sneak Peek
Pivot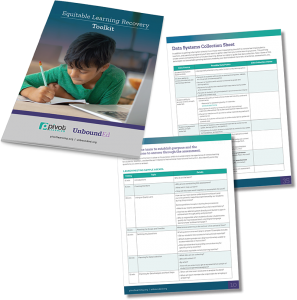 At the end of a typical school year, districts and schools are in the throes of assessing for student growth, planning teacher professional development, and laying the groundwork for a successful school year.
But 2019-20 was no ordinary school year.
District leaders need to look back and reflect on what happened, how it impacted instruction and learning, and how they can prepare teachers to make up learning loss next year through equitable instruction, keeping in mind that learning could continue remotely.
Download our Equitable Learning Recovery Toolkit, which includes everything you need to conduct surveys with all stakeholders about teaching and learning this spring and synthesize that data to guide professional development and lesson planning for next fall. Also watch the on-demand recording of our webinar, "Finishing the Unfinished: Tools to Create an Equitable Learning Recovery Plan," for more background on the purpose of the toolkit and how to implement it in your district or school.
Download Your Equitable Learning Recovery Toolkit
The toolkit will download as a zip file. Unzip the file to access the full toolkit PDF as well as the teacher, student, parent/guardian, and coach/student leader surveys.
Watch Our On-Demand Webinar
to Learn More About the Equitable Learning Recovery Toolkit
Once you've completed this toolkit, be on the lookout for a second one from Pivot Learning and UnboundEd. The next toolkit will help you continue this important work by putting together a plan to launch equitable instruction and learning this fall.
Pivot and UnboundEd strive to help districts ensure educational equity for all students. Pivot partners with educators to design and implement solutions for achieving educational justice. UnboundEd offers training and tools to empower educators to center equity in their instructional practices.
Have questions about the toolkit or about working with Pivot and UnboundEd to ensure equitable curriculum adoption and implementation next year? Complete the form below and we'll get in touch!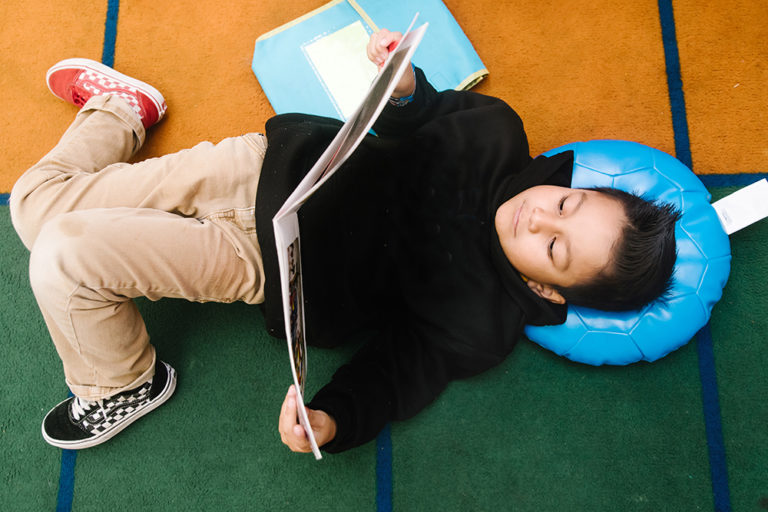 Pivot
Copyright © 2020 Pivot Learning TM
Scroll