In the News
Calcurriculum and the California Department of Education are partnering to offer free workshops this May and June to help county offices, districts, and charter management identify opportunities and strategies to improve their math program implementation.
May 20-21, Sacramento
June 18-19, Santa Ana
The workshops will be beneficial to districts needing Tier 1 math curriculum support as well as targeted support for districts designated for assistance. During the workshop, participants will:
• Investigate their instructional materials
• Consider possible adaptations or supplemental materials
• Plan for how to improve the math program in their schools
Want a preview of what will be covered in the workshop? Check out the Implementation Guide.
Register your team today. Spaces are limited and the deadline to register is April 5th. The workshop is free and meals will be provided. Participants will need to cover their own travel, hotel, and other incidental costs.
CalCurriculum is a partnership between EdReports and Pivot Learning.
Pivot
Check out their new 3rd edition of the popular Teaching Reading Sourcebook, with content updates and a brand new chapter on MTSS. Assessing Reading: Multiple Measures, 2nd Edition has also been revised with new, clearer test instructions and an easy-to-use format.
Members of the CORE team recently presented several sessions at the annual NABE and CABE conferences in March. Check out their topics and download their presentations and handouts: NABE materials | CABE materials
CORE is excited to be a reseller of the digiCOACH Advanced Teacher Coaching Platform. They will be integrating digiCOACH into their work with districts and schools to strengthen instructional practice and improve outcomes for all students. Learn more about digiCOACH.
You can learn more about CORE's approach to professional learning, and gain insights and strategies, in their most recent newsletter, and consider participating in one of their upcoming events:
CORE's Online Elementary Reading Academy is a facilitated online, asynchronous course that starts September 19. The course teaches educators the essential components of reading instruction with clear and explicit models immediately applicable to the classroom.
4 Must Do's for Math Instruction, a one-hour webinar with Dean Ballard, CORE's Director of Math, Tuesday, April 4, 5-6pm Eastern/2-3pm Pacific. The webinar will take a look at all four requirements and share tips and techniques to ensure they are all incorporated into math instruction.
Also, check out these on-demand webinars, that you can view at your convenience:
In the News
The Californian is helping spread the news about the Crisis on the Coast event we held on March 11th at the Monterey County Office of Education in Salinas, CA. The panel and forum discussed the report "Crisis on the Coast: The Bay Coastal Foster Youth and Homeless Student Populations" that outlines the findings of a study conducted by Pivot  Learning and National Center for Youth Law. Read the full report to learn more.
Excerpted from The Californian
Local education and nonprofit leaders are hoping to better identify and help homeless students in Monterey County, where about one in 10 pupils qualify as homeless, according to a November study – a number some suggest is low.
Monday, the Monterey County Office of Education and Salinas City Elementary School District co-hosted a discussion hoping to understand the state of education in communities impacted by family homelessness and recommend solutions for students.
Published by Pivot Learning and the National Center for Youth Law, the study "Crisis on the Coast: The Bay Coastal Foster Youth and Homeless Student Populations" found increases in homeless and foster students in Monterey County. The county also had far fewer services for these students compared to urban areas in the greater San Francisco Bay Area.
It spoke to the community's future, said Gary Vincent, executive director of the Epicenter, a local nonprofit serving homeless and foster youth. "If you are concerned about the youth in this county at all, this should be a wake-up call for us and a call to action now."
While Monterey County had average rates of foster youth within the Bay Area region, it far outpaced other counties in the rate and total number of students experiencing homelessness. Local homeless and foster students are more likely to be English learners and people of color.
"What it did, the bottom line, is it raised awareness in our community," said Salinas City Elementary Homeless Liaison Cheryl Camany.
In the News
Our recent Crisis on the Coast event held on March 7th at the Community Center at Soper Field in Seaside, CA received coverage by the Monterey Herald. The panel discussion and forum was based on the report "Crisis on the Coast: The Bay Coastal Foster Youth and Homeless Student Populations" that outlines the findings of a study conducted by Pivot Learning and National Center for Youth Law. Learn more about the report and download a copy.

Excerpted from the Monterey Herald

SEASIDE — Monterey County is in a huge crisis as the dramatic rise in family homelessness along the coast and rural areas continues to grow each day.

The National Center for Youth Law and Pivot Learning hosted a presentation for the report "Crisis on the Coast: The Bay Coastal Foster Youth and Homeless Student Populations" inside the Community Center at Soper Field on Thursday afternoon.

The event, which was co-hosted with Monterey Peninsula Unified School District, featured a panel of experts on homeless and foster youth populations and a public forum.

The panel featured Adrienne "Bing" Goldsworth, who's the National Center for Youth Law program manager for FosterEd in Monterey County and was on hand to talk about ways to help reduce the number of homeless and foster youth students in the area.

Other panelist included Darius Brown of the Monterey County of Education, MPUSD board trustee Wendy Root Askew, MPUSD Social Emotional Support director Donnie Everett and MPUSD homeless liaison Carlos Diaz.

Brown, who's the coordinator for McKinney-Vento Homeless Education Services, said getting all the experts, liaisons and families in the same room to talk about the subject means people are acknowledging it is an issue.

"If your district is not talking about the situation then that means you haven't acknowledged family homelessness as an issue," he said.

Pivot Learning CEO Arun Ramanathan and program manager Hannah Melnicoe were at the forum to present the report findings.

Read the Full Story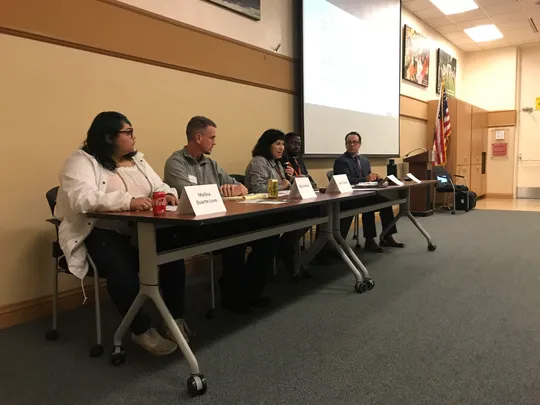 Pivot
This spring, Pivot Learning will be presenting at several innovative industry events to share insights, practices, and tools with the education community. We hope to see you there!
Community-Centered School Redesign 
Wednesday, March 20, 2019, 11:15am – 12:15pm

A practitioner panel will discuss how Pivot's community-centered design process helped several communities to begin, grow, and sustain deeper learning experiences for school improvement.
Using Design Thinking to Develop Community-Centered Linked Learning
Pathways 
Wednesday, March 20, 2019, 1:45 – 3:00pm

Learn from practitioners how Pivot's change design approach supported them to identify the community roles and resources needed to design and implement effective Linked Learning models.
Growth Culture: A Transformative Approach for Achieving Your Goals
Thursday, March 21, 2019, 9:45 – 11:00am

Assess your own organization's growth culture to uncover strengths, needs, and opportunities for equitable Linked Learning programs.
Deeper Learning for Grown Ups!
Wednesday, March 27, 11:00am – 12:30pm

Learn from practitioners how to align current organizational processes with community partnerships to design and implement successful college and career pathways.
Partnering with Our Communities to Design Better Pathways
Wednesday, March 27, 2:00 – 3:30pm

Learn strategies and resources to develop a growth culture at your organization in order to foster deeper learning for both adult leaders and students.
Creating Deeper Learning Environments for Design Teams
Friday, March 29, 9:00 – 10:30am

Learn how to integrate design thinking, growth culture, and equity into your organization's culture to develop deeper learning environments for both students and adults.
Better Together: Small School Network Towards Continuous Improvement 
Monday, April 1, 9:45 – 10:40am

In partnership with the El Dorado County Office of Education, Pivot Learning's Rural Professional Learning Network will speak to their experience with continuous improvement using change design.
Leading the Change: Using Improvement Strategies to Implement Instructional Materials 

Poster Sessions:

– Tuesday, April 16, 5:30 – 7:00pm

– Wednesday, April 17, 3:00 – 4:00pm

– Thursday, April 18, 7:00 – 8:30am

In partnership with the California Department of Education and EdReports, this poster presentation will detail how the California Curriculum Collaborative supports districts in their work to adopt and implement high-quality instructional materials for continuous improvement and improved student achievement.
Pivot
The LCFF Test Kitchen provides local education agencies (LEAs) with the support and space to find and implement solutions that address the challenges of the Local Control and Accountability Plan (LCAP) process from a different perspective—that of the end user.
Over the course of a year, three districts have embraced a user-centered design approach to foster local innovation and develop better solutions to persistent LCAP challenges.
The results of their work are now available in two new briefs.
Together, these publications offer ideas about how LEA's can leverage user-centered design to improve their LCAPs and other initiatives.
For more information about the LCFF Test Kitchen, please visit lcfftestkitchen.org.
LCFF Test Kitchen is a partnership with:
CCEE, CCDR, Pivot Learning, and WestEd.
Pivot
Pivot
Why are healthy school and district cultures essential for continuous improvement?
Adult development of teachers, leaders, and staff is often ignored or neglected, leading to toxic or compliance-driven cultures and limited growth. Join us at two events to learn how Pivot works with education leaders to design schools where adults, students, and communities can flourish and continuously improve together.
Join us for a webinar and symposium about:
Building a School Culture Where Everyone Grows
WEBINAR: February 7th, 1:00-2:00 PM PST
Pivot's Beyond High School initiative has helped schools transform their learning environments to continuously improve the performance of both leaders and students. Join us for a conversation and useful tools to help your school rethink adult development to support capacity building and school improvement.
Panelists include:
Arun Ramanathan, Ed.D., CEO, Pivot Learning
Laura Flaxman, Ed.L.D., Vice President, Pivot Learning
Daniel "PK" Diffenbaugh, Ed.L.D., Superintendent, Monterey Peninsula Unified School District
SYMPOSIUM: February 27th-28th, 2019; Monterey Peninsula Unified School District, Monterey, CA
See in action how one district designed a culture where individuals and team members are continuously growing and improving while tackling their equity challenges.
In our interactive professional development sessions, learn practical strategies and tools to help your school rethink its culture to support capacity building and school improvement for all.
Questions? Drop us a line!
Leadership Development
Pivot Learning's expert team of district and school improvement specialists came together for a webinar on continuous improvement in special education.
This targeted webinar focused on building the capacity of special education leaders, teachers, and related service providers to serve as instructional leaders. You will learn how our most specialized educators can work with general educators to redesign education systems to effectively serve all students.
Access the webinar slides here.
In the News
"We don't really have the expertise on site so we rely on working with other small school districts and the curriculum department at our [county] office of education."
                                                                                -Rural School Leader
Over the past two years , with generous support from the S.H. Cowell and William and Flora Hewlett Foundation, Pivot Learning has supported and collaborated with twenty-one rural districts and counties in Northern California to create the Rural Professional Learning Network (RPLN). Through an iterative design process, the RPLN has joined forces to overcome unique challenges due to their limited budgets and remote locations and effectively implement the Common Core State Standards (CCSS) and Next Generation Science Standards.
Pivot partnered with Policy Analysis for California Education (PACE), an independent, nonpartisan research center at Stanford University, to conduct research and present findings on the current challenges facing rural districts in California. The research was lead by Dr. Thomas Timar, an expert in education finance, policy, and governance, director of the UC Davis Center for Applied Policy in Education (CAP-Ed), and member of the PACE steering committee. In the report, "Surprising Strengths and Substantial Needs: Rural District Implementation of Common Core State Standards", Dr. Timar and his colleagues found that "If small rural districts are to succeed in meaningful, deep implementation of CCSS, the state, COEs and other support providers must provide small and rural districts with access to relevant exemplars of systemic standards implementation."
Based on research collected from RPLN's first year, recommendations on how to better support rural districts included:
1) Encouraging rural districts and schools to think strategically and effectively about time management and resources.
2) Providing ongoing resources to small and rural districts to support professional development according to diverse teacher and student needs, innovative delivery methods, and effective, measurable impact.
3) Redefining the State and Local Role for Instructional and Curricular Support with specific consideration to the needs of small and rural districts.
Pivot and PACE are continuing to collaborate on this work, with the addition of El Dorado County into the RPLN. Additionally, Pivot is working with the Collaboration in Common platform to support the sharing of tools, resources, and supports between districts and between different networks.
The RPLN seeks to alleviate local capacity and statewide infrastructure issues within rural districts by leveraging both in-person meetings and virtual collaboration tools. As part of this network, education leaders identify their core implementation challenges (problems of practice or PoPs). The larger network works collaboratively to develop and share solutions for these challenges. Through this model, counties and districts identify, employ, and disseminate best practices in CCSS.
Policy Analysis for California Education (PACE) is an independent, non-partisan research center based at Stanford University, the University of Southern California, and the University of California, Davis. PACE seeks to define and sustain a long-term strategy for comprehensive policy reform and continuous improvement in performance at all levels of California's education system, from early childhood to post-secondary education and training. PACE bridges the gap between research and policy, working with scholars from California's leading universities and with state and local policymakers to increase the impact of academic research on educational policy in California. For more information, see edpolicyinca.org.
Scroll