In the News
Pivot Learning's work with Monterey Peninsula Unified School District to develop a culture of adult learning was recently featured in KQED's Mindshift. Harvard researchers have been studying the impact of what they call a "growth culture" on the effectiveness and productivity of companies. Now, they're expanding that work into schools as a way to create powerful learning environments for students.
"The key thing is how do we make sure this connects with the mission critical work the schools are already doing? This can't be extra," said Robert Curtis, vice president of education programs at Pivot Learning.
Curtis understands that teachers and schools already have too many demands on their time. For a growth culture to take hold and actually change how adult learning in the district happens, it can't be extra work. Instead, Curtis and others encouraged the four schools and one district department who volunteered to participate in the study to consider this a way to move forward on the issues that are already central to them.
"We're trying to build the internal capacity for them to learn together and create a safe space for leaders to try things out," Curtis said.
Pivot Learning chose Monterey for this study because it's superintendent PK Diffenbaugh went through the Harvard leadership training and already believes in the power of growth culture. He was looking for ways to better support his staff to continue their learning journey, convinced by research that shows higher teacher satisfaction, retention and success when a school has a strong adult learning culture.
In the News
Published by National Association of School Superintendents
Monica Ng, Pivot Learning's Director, Education Programs, recently shared details of Pivot Learning's collaboration with Monterey Peninsula Unified School District (Monterey, CA),  Lancaster School District (Lancaster, CA) to pilot an innovative peer-to-peer learning model. Leadership teams from these two districts were provided the opportunity to learn strategies for leveraging multi-tiered systems of support (MTSS) models to address the needs of at-risk student populations from educators in Sanger Unified School District (Sanger. CA), a national leader in the use of MTSS.
In many cases, school districts look to outside providers to offer support for the implementation of new initiatives. Through a generous grant from the Stuart Foundation, Pivot Learning was able to work with two California districts, Monterey Peninsula Unified School District (Monterey) and Lancaster School District (Lancaster), to pilot an innovative peer-to-peer learning model. 
Monterey and Lancaster are high-poverty, high-need school districts with large numbers of foster and homeless youth. These students often "fell through the cracks" academically and behaviorally. Nationally, many school districts have sought to address the needs of at-risk student populations with multi-tiered systems of support (MTSS) models that provide timely academic and behavior supports.  
Sanger Unified School District (Sanger), in California's Central Valley, has garnered statewide and national acclaim for their MTSS system. Sanger was an early adopter of Response to Intervention (RtI), which it successfully used to reduce its inappropriate identification for special education and provide early interventions that showed in the district's student level outcomes. Like every district, Sanger experiences the introduction of new initiatives and priorities. The district's mindset has shifted to the idea of building an MTSS initiative and moving onto the next project, to using MTSS as a framework for all of their work.
Pivot Learning partnered with Sanger to provide peer support to Monterey and Lancaster. We developed an MOU with Sanger and purchased the time of two key leaders of its MTSS initiative. Monterey and Lancaster sent leadership teams to Sanger to learn more about Sanger's work, and the three districts met as a community of practice. Additionally, Sanger provided virtual coaching and professional learning to the Monterey and Lancaster teams. 
At Pivot Learning, we use the user-centered design model for developing solutions to districts' greatest challenges in achieving educational justice. This starts with the process of discovery and learning how the current system treats end-users — in this case, homeless and foster youth. It also starts with learning about best practices and the work of high-functioning systems like Sanger. Through closely examining data, conducting empathy interviews and focus groups, and considering research, each district built and tested MTSS prototypes focused on the needs of their most vulnerable students. They then received ongoing feedback from Sanger, and from each other, that they then used to refine prototypes before scaling them. 
We see the potential of these types of practitioner partnerships in many other areas of the work we do at Pivot Learning. There is tremendous expertise both inside and outside school districts that can and should be leveraged to accelerate efforts to improve student outcomes and close achievement gaps. We are excited to incorporate this peer-to-peer learning model into future projects and to continue looking for other district partners to work alongside us in building systemic solutions to our school system's biggest challenges in achieving educational justice. Pivot Learning is a non-profit organization whose mission is to partner with educators to design and implement solutions to their greatest challenges in achieving educational justice. For more information, please contact Monica Ng at mng@pivotlearning.org.
In the News
The Michigan Department of Education (MDE) recently named Consortium on Reaching Excellence in Education (CORE), a subsidiary of Pivot Learning, as one of the approved providers for research-based effective literacy instructional professional learning throughout the state. CORE will collaborate with district and school leaders to provide job-embedded professional learning based on the science of reading that leads to significant improvement in educator effectiveness.
CORE's Elementary Reading Academy, based on the nationally recognized Teaching Reading Sourcebook,  coupled with coaching covers the content identified in Michigan's Essential Instructional Practices in Early Literacy, K‐3. Brain research, linguistics and dyslexia information, and Structured Literacy Practices are also incorporated into ORE's professional learning services. Working with CORE, educators will gain the knowledge and instructional skills to help all students, even English learners and those with dyslexia, become strong readers.
In the News
Last month, EdReports.org released reviews of five ELA Foundational Skills programs, evaluating them each based on the reading foundational skills called for, including whether or not the skills apply research-based practices and are presented systematically with explicit instruction.
Linda Diamond, president of our partner organization, CORE, was a reviewer and provided feedback on the development of the rubrics used to evaluate the various curriculum programs and also reviewed the detailed descriptions the reviewers used along with the rubrics. Five programs have been reviewed so far. We encourage you to read the reviews, especially if you're currently using or considering implementing one of the programs.
Summary of the Reviews
The purpose of the EdReports.org reviews is to provide independent analyses of foundational skills programs so that educators can ensure they're selecting strong, research-based supplemental reading curriculum. Unfortunately, the review revealed that none of the five programs fully meet expectations for alignment to college- and career-ready standards.
Partially Met Expectations for Alignment to College- and Career-Ready Standards:
The Fountas & Pinnell Phonics, Spelling, and Word Study System (Heinemann)
Puzzle Piece Phonics (Corwin Literacy)
Wilson Fundations (Wilson Language Training)
Did Not Meet Expectations for Alignment to College- and Career-Ready Standards:
Express Readers Foundational Reading Program (Express Readers)
Jolly Phonics (Jolly Learning)
In addition to the reports for each of the programs that have been reviewed, EdReports.org also provides a tool to compare programs.
Learn more about why EdReports.org is reviewing supplemental ELA Foundational Skills programs.
In the News
At one time when a student acted out in class, that student would often be punished for their behavior and possibly excluded from the classroom. The student would bear all the blame.
Recent research, however, suggests at least part of the problem lies not with the student, but with the school's culture.
Educational research shows that encouraging students to learn from their mistakes through a "growth mindset" can help a student go from believing they can't succeed in school because they aren't good enough, to knowing they can achieve their goals by applying themselves through hard work.
"But if your teachers don't have that mindset," says Joe Ashby, principal at Monte Vista Elementary in Monterey, "there is no hope that it will work in your students."
In collaboration with Oakland-based nonprofit Pivot Learning, MPUSD principals, teachers and administrators participated in a series of surveys, focus groups and workshops to improve the "growth culture" throughout the district.
For PK Diffenbaugh, superintendent of MPUSD, growth culture is about "creating the conditions where people bring their best self to the work." For staff, that means focusing on personal development that helps each person align with the community's goal of helping students succeed.
"Studies have shown that if you improve adult culture and learning, you improve student outcomes," says Robert Curtis, vice president of education programs at Pivot Learning, who oversaw the pilot project. "So if the district wants to help its students, it first has to teach its educators and staff how to develop their own growth mindsets."
Using tools developed by researchers at Harvard University, Pivot Learning and Cambridge-based partner Way to Grow worked on professional development with adult employees of MPUSD, which serves more than 10,000 students spanning 11 elementary, three middle, three comprehensive high schools, one alternative high school, and an independent charter school in Del Rey Oaks, Marina, Monterey, Sand City and Seaside.
While 13 schools and departments in the district participated in surveys that assessed their current growth culture, five sites chose to take it further.
Representatives from three elementary schools, one middle school, and the Human Resources Department met for day-long workshops over the course of a year where they learned activities "that helped people get to a high level of purpose, connection, and vulnerability to communicate within the group," says Ashby, who participated in the pilot. This included protocols that allowed participants to share their mistakes and express their goals for self-improvement while also providing a space to provide each other with constructive feedback. "These skills apply directly to working with students, so we got to bring them back to our schools right away."
Though the immediate goal of the pilot was to help MPUSD staff develop their growth culture, the long term goal is to address "teacher morale, teacher retention, and student outcomes," says Curtis.
"The pilot is very much in line with what I've laid out from day one, which is that we are all going to learn," says Diffenbaugh. "There's a common misconception that once you become an adult, you're done learning and growing. That's not true."
Since being appointed as superintendent of MPUSD in June 2014, Diffenbaugh has spearheaded a number of changes in the district that have resulted in positive student outcomes. For example, the eligibility of high school students to enter the UC and CSU systems has increased from 35 to 80% in the past five years.
The results of the pilot study show that not only did the five target teams significantly improve their growth culture through the program, there was also a "ripple effect" throughout the district, says Curtis.
Diffenbaugh plans to continue work with Pivot Learning moving forward, particularly with regards to high school education and student success.
Though Diffenbaugh says it may be too soon to see the pilot study's impact on students, the superintendent is hopeful for the future. "We have a long way to go. But we've taken not only the first step, but also the most difficult step of changing our culture. Now all of us are working together toward a common vision."
With the new school year well underway, Diffenbaugh and his team are paying close attention to see how things have changed for students.
Even though the study has ended, Ashby continues to implement initiatives in his school to promote growth culture for both students and staff. "It was one of the most impactful professional development programs of my whole 25-year career."
Article originally published by the Monterey Herald on October 7, 2019
In the News
Recommendations from the LCFF Test Kitchen for Aligning Reporting Requirements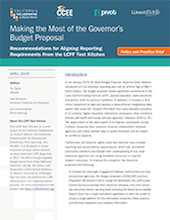 Governor Newsom's January budget proposal outlines plans for a single web-based application that can merge various district reporting tools to increase efficiency and public understanding. Drawing on the experiences of the LCFF Test Kitchen, a new brief offers four recommendations for making the most of this proposal:
1. Articulate the goals and desired outcomes of a single web-based reporting platform to align reporting structures.
2. Engage end users throughout the development process.
3. Foster competition to generate an innovative, single web-based reporting platform design.
4. Create structures and supports to build trust between school districts and their communities.
Through a process that values end users and fosters innovation, we can both support and improve upon the Governor's proposal, thereby helping to create the conditions for continued progress in our schools and communities.
For more information about the LCFF Test Kitchen, please visit lcfftestkitchen.org.
You can also find the brief and more information about LCFF on the California Collaborative on District Reform (CCDR) website.
LCFF Test Kitchen is a partnership with:
CCEE, CCDR, Pivot Learning, and WestEd.
Equitable Education Spending
A new report from Pivot Learning finds that California's unfunded pension costs threaten educational equity.
California's chronic underfunding of teacher pensions is pushing school districts into financial distress, forcing them to make painful cuts that will increasingly harm both the state's teachers and its most vulnerable students, according to a report released today by Pivot Learning. Read more »
In the News
Our recent Crisis on the Coast event held earlier this March continues to bring attention to the homeless crisis in our community. The Monterey Herald mentioned Pivot Learning's report, "Crisis on the Coast: The Bay Coastal Foster Youth and Homeless Student Populations." The report outlines a study we conducted in partnership with National Center for Youth Law about how the region's soaring housing costs and lower wage jobs has contributed to the growing housing crisis. Learn more about the report and download a copy.

Excerpted from the Monterey Herald

MONTEREY — Cynthia Tiberend has posted a Go Fund Me video asking for help and explaining how the Monterey resident is facing the loss of her home of 23 years and the uncertainty that she will be able to afford a new place to live.
The short video did not explain the reason Tiberend must leave her home and an email to the Carmel resident who posted the page for Tiberend was not returned Monday.
"I'm very stressed, very frightened," Tiberend said in the video. "I was given to May 7  to vacate my apartment. I might need movers because I may need to move farther away because I cannot secure housing in the Monterey area. I never thought I would find myself in this situation but here I am."
She is not alone. New findings released on March 15 by an Oakland-based nonprofit called Pivot Learning highlight the role of region's soaring housing costs and lower wage jobs has on the growing housing crisis. Pivot works with schools to tackle any number of educational challenges. It became involved with Monterey County when it found that 10 percent of students in the county were considered homeless by the state Department of Education.
On Wednesday, Monterey planning staff will present a new report to the City Council during a study session that presents both challenges and opportunities to address the crisis. The report notes both the income disparities in Monterey that contribute to the crisis and the policy measures the city can take to provide more affordable housing units.

Read the Full Story
In the News
Calcurriculum and the California Department of Education are partnering to offer free workshops this May and June to help county offices, districts, and charter management identify opportunities and strategies to improve their math program implementation.
May 20-21, Sacramento
June 18-19, Santa Ana
The workshops will be beneficial to districts needing Tier 1 math curriculum support as well as targeted support for districts designated for assistance. During the workshop, participants will:
• Investigate their instructional materials
• Consider possible adaptations or supplemental materials
• Plan for how to improve the math program in their schools
Want a preview of what will be covered in the workshop? Check out the Implementation Guide.
Register your team today. Spaces are limited and the deadline to register is May 3rd. The workshop is free and meals will be provided. Participants will need to cover their own travel, hotel, and other incidental costs.
CalCurriculum is a partnership between EdReports and Pivot Learning.
In the News
The Californian is helping spread the news about the Crisis on the Coast event we held on March 11th at the Monterey County Office of Education in Salinas, CA. The panel and forum discussed the report "Crisis on the Coast: The Bay Coastal Foster Youth and Homeless Student Populations" that outlines the findings of a study conducted by Pivot  Learning and National Center for Youth Law. Read the full report to learn more.
Excerpted from The Californian
Local education and nonprofit leaders are hoping to better identify and help homeless students in Monterey County, where about one in 10 pupils qualify as homeless, according to a November study – a number some suggest is low.
Monday, the Monterey County Office of Education and Salinas City Elementary School District co-hosted a discussion hoping to understand the state of education in communities impacted by family homelessness and recommend solutions for students.
Published by Pivot Learning and the National Center for Youth Law, the study "Crisis on the Coast: The Bay Coastal Foster Youth and Homeless Student Populations" found increases in homeless and foster students in Monterey County. The county also had far fewer services for these students compared to urban areas in the greater San Francisco Bay Area.
It spoke to the community's future, said Gary Vincent, executive director of the Epicenter, a local nonprofit serving homeless and foster youth. "If you are concerned about the youth in this county at all, this should be a wake-up call for us and a call to action now."
While Monterey County had average rates of foster youth within the Bay Area region, it far outpaced other counties in the rate and total number of students experiencing homelessness. Local homeless and foster students are more likely to be English learners and people of color.
"What it did, the bottom line, is it raised awareness in our community," said Salinas City Elementary Homeless Liaison Cheryl Camany.
Copyright © 2020 Pivot Learning TM
Scroll