Leadership Development
Far too many schools struggle with unhealthy and uninspiring cultures for both students and educators. Teachers and administrators often feel overwhelmed and unsupported in their professional growth. If we're serious about attracting, retaining and developing skillful and passionate educators, we must cultivate the type of culture in our schools where everyone is supported to grow. Join this hour-long webinar to hear how Monterey Peninsula Unified School District (MPUSD) is building just such a culture.
Joe Ashby, Principal at Monte Vista Elementary, will share his experience as part of a pilot project with Pivot Learning to measure MPUSD's culture and systematically implement strategies to improve it. Joe will be joined by Robert Curtis, Vice President of Education Programs with Pivot Learning, and Andy Fleming, co-author of An Everyone Culture.
Watch the webinar to learn:
What a growth culture is, why it's important, and why it has been largely ignored in education.
How the principles in the book An Everyone Culture can be an essential ingredient to truly begin to reinvent schools.
What strategies and techniques were implemented specifically at Monte Vista Elementary to support the adult development of teachers and staff.
Findings from Pivot Learning's growth culture pilot project with MPUSD.
Fill out the form below to access the webinar.
Leadership Development
On September 26 Pivot Learning was at Harvard Graduate School of Education to share initial findings from Monterey Peninsula School District's (MPUSD) work with Growth Culture. We were joined by Building 21 and Way to Grow, organizations that are working to develop Growth Culture in K-12 schools. Andy Fleming and Dr. Lisa Laskow Lahey, two of the authors of An Everyone Culture: Becoming a Deliberately Developmental Organization (2016), also presented.
Get a glimpse of the discussion.
Fill out the form to download a copy of the presentation deck.
More About Growth Culture
Over the years, educators have undertaken hundreds of initiatives and programs in the quest to improve outcomes for all students. There is no single program or step-by-step recipe that can solve the complex educational challenges faced by many schools. However, if there is one approach that has the potential to be the most transformational, a focus on culture with an adult development lens might just be it.
Results from Pivot's pilot project with the Monterey Peninsula School District (MPUSD) demonstrates the possibility of Growth Culture to be an essential ingredient to truly begin to reinvent schools.
More About MPUSD & Pivot Learning's Work with Growth Culture
Like many school districts, MPUSD faces many complex challenges. From raising student achievement among vulnerable populations to hiring and retaining high quality teachers, there are many initiatives and programs in place throughout the district all attempting to drive change. During the 2018-19 school year, educators from across MPUSD took a step back to approach their work from a different perspective, Growth Culture.
Leveraging the adult development research by Drs. Robert Kegan, Lisa Laskow Lahey, Andy Fleming, Matthew Miller, and Deborah Helsing of the Harvard Graduate School of Education outlined in their recent book, An Everyone Culture: Becoming a Deliberately Developmental Organization, Pivot Learning partnered with MPUSD to develop and implement an organizational culture where people are encouraged to grow as individuals and team members, while tackling their most challenging equity work.
For nine months MPUSD learned about the latest research on adult development and Growth Culture and how to apply it to their lives, relationships and practice. While the MPUSD pilot was limited in size and scope, early indicators are strong that applying a developmental lens to work with adults in schools and school systems has tremendous promise as a game changer for our educational system. Fostering a Growth Culture can not only transform the work experience for a school and district's employees, leading to higher job satisfaction and retention, but there is evidence that it can also improve faculty and staff performance, and ultimately, student outcomes.
Download our whitepaper, Growth Culture: A New Approach to School Improvement, for more information about MPUSD's pilot project with growth culture.
Leadership Development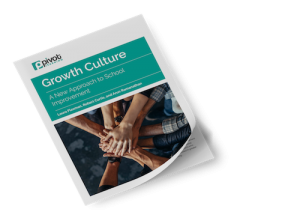 At 7:45 on a Wednesday morning in April 2018, superintendent PK Diffenbaugh gathered educators from across Monterey Peninsula Unified School District (MPUSD) to do something almost unprecedented in American education. For the next nine months, the school would partner with Pivot Learning to build a "Deliberately Developmental Organization" that supports a "growth culture" by learning to apply the latest research on adult development to their lives, relationships, and practice.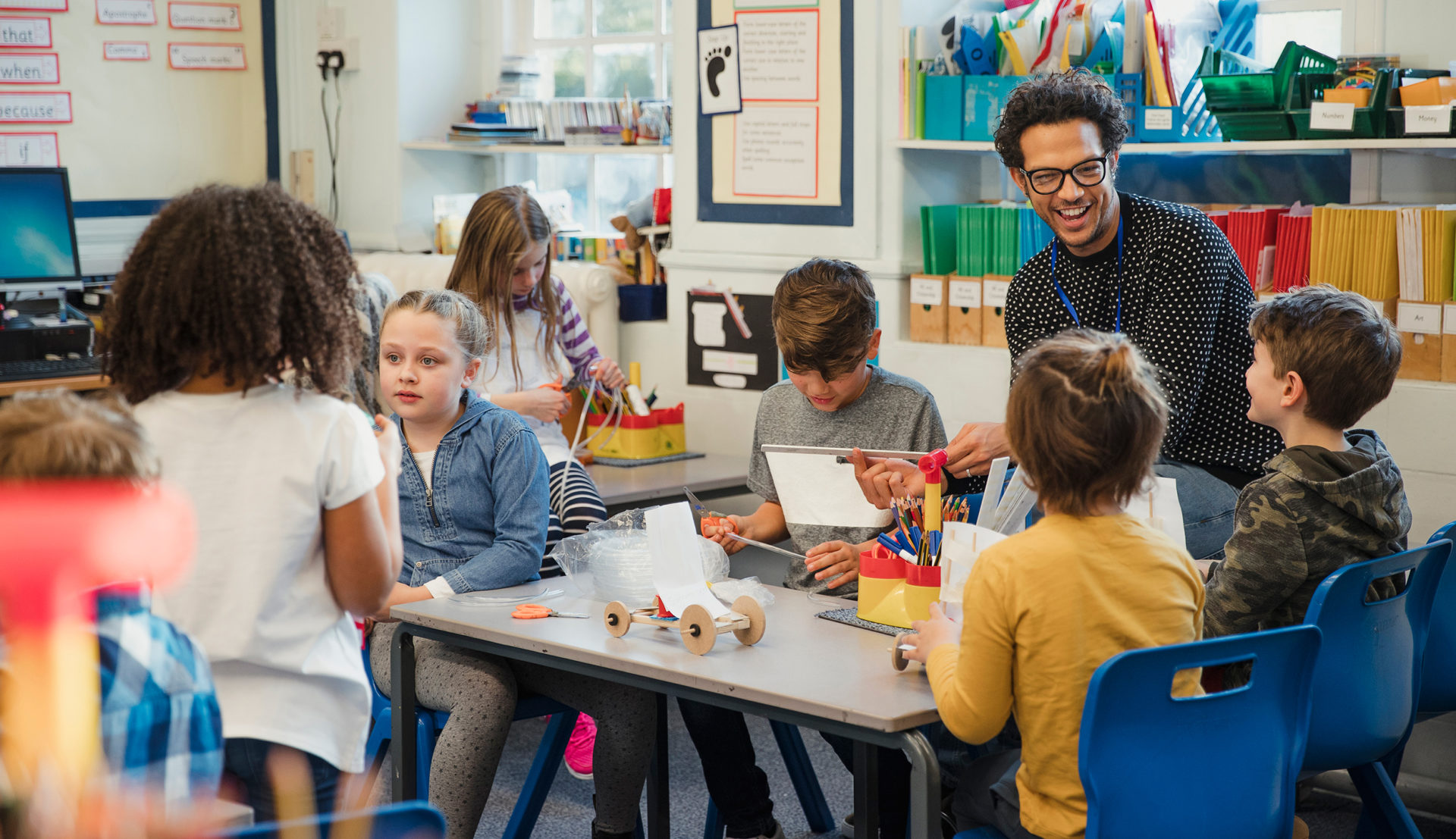 Leadership Development
Our most vulnerable students also require structured materials designed specifically to fill learning gaps
by Linda Diamond, President, CORE and author of the Teaching Reading Sourcebook and Assessing Reading: Multiple Measures
Back in September 2018 I wrote about the importance of selecting and fully implementing a great curriculum with excellent support and ongoing professional learning. This is a huge and important step in accelerating achievement for all students. But is that enough? The answer, unfortunately is "no." A standards-aligned, high-quality curricula, while significantly improving outcomes for many students, will not be sufficient for those most at risk. Core curriculum is targeted at grade-level standards and will ensure all students have access to robust content, but it will not meet the needs of students who are significantly behind in their skills. Such students will still require a targeted or intensive intervention curricula that is well beyond what a standards-aligned core program can provide.
Don't get me wrong, strong curriculum will significantly reduce the numbers of students needing tiered interventions, but older students, in particular, who did not have the benefits of best first teaching, will need extra support. This is also true for young students experiencing reading or math difficulty. A multi-tiered system of support will ideally address these needs. Yet few districts have successfully designed and implemented MTSS. When implemented fully, schools with multi-tiered systems recognize that in addition to solid core instructional materials, educators need to also identify, purchase and implement specialized, structured intervention materials that explicitly address students' skills gaps. One curriculum will not be sufficient as it will not address the various tiers of instructional need at a school. Furthermore, not all of the vetted core curricula adequately address the early literacy foundational skills. This gap will likely require supplemental materials that more closely meet those described in the IES Practice Guide Foundational Skills to Support Reading for Understanding in Kindergarten Through 3rdGrade or follow Louise Spear-Swerling's description of Structured Literacy (Structured Literacy and Typical Literacy Practices: Understanding Differences to Create Instructional Opportunities, Jan. 2018). Especially in the early grades, prevention of reading difficulty is the name of the game and most core curricula, while essentially meeting most standards, are not sufficient.
Without a doubt, we want all students to have access to standards-aligned curriculum and instruction, but what if specific foundational skills never are mastered? A 6th grade student who cannot decode single syllable words while able to participate actively in core instruction still needs to be taught how to decode. Where is the material to do that in a standards-aligned middle school core program? When a student with identified learning disabilities receives great instruction and scaffolded support in a general education classroom, he or she can participate, be engaged and will learn, but at some point the missing skills need to be directly taught. Such struggling students will not have scaffolded support when they leave school. We want these students to have the skills they require to be independent.
Too often we confuse equity with equality. Yes, giving all students equal access to high-quality curriculum and instruction is vital, but equity entails much more. Equality is treating everyone the same and the goal is to promote fairness. But that is only true if everyone starts from the same place. Equity, on the other hand, requires giving someone what they need to be successful.
We are on the right track with focusing on putting excellent core instructional materials into the hands of well-prepared and supported educators, but we also have to be aware that some students will also need targeted instruction with more appropriate and focused materials.
In education we have a habit of going for the silver bullet, of looking for a panacea that will turn things around. In recent years it was teachers writing their own units of study and having new common core standards; now, it is selecting and implementing a standards-aligned curriculum faithfully. I fear we will put too much stock in the power of a strong curriculum and be dreadfully disappointed when many of our most vulnerable learners do not improve sufficiently. I would like to think we can do two things at the same time—select and implement a strong standards-aligned core curriculum as core instruction for all students but at the same time identify and implement structured materials designed specifically to fill learning gaps for those students who need more targeted instruction and materials, so that we truly turn our schools into equitable institutions. Our schools should be places where all students thrive and those who need more get more.
References:
https://ies.ed.gov/ncee/wwc/practiceguide/21
http://www.readingrockets.org/content/pdfs/structured-literacy.pdf
Leadership Development
Pivot Learning's expert team of district and school improvement specialists came together for a webinar on continuous improvement in special education.
This targeted webinar focused on building the capacity of special education leaders, teachers, and related service providers to serve as instructional leaders. You will learn how our most specialized educators can work with general educators to redesign education systems to effectively serve all students.
Access the webinar slides here.
Leadership Development
At schools across the country, students are expecting visits from relatives and friends, wondering what new gadget they might be getting, and trying to impress peers and family at winter music performances – all while keeping a focus on exams, group projects, and assignments. You're trying to help students end this semester strong during this very busy time of the year. So what is a teacher to do? Check out these tips to keep your students settled and focused until the very last day before their winter break:
Prioritize your time with students. You know you only have a matter of days before winter break, and students' attention begins to wane. This is where reviewing your pacing guides, curriculum plans, and goals for the semester are really important. Where are your students relative to your semester goals for them? Consider where you really need to spend your time with students to help them achieve their learning goals. You can't cram it all in, so prioritize the most important lessons you want to teach them, and provide ample time for them to engage thoughtfully in their learning.
Be intentional. Be purposeful in the decisions you make around instruction and the activities you ask students to engage in. It can be easy to pile on too many tasks for students in hopes of teaching more content before the winter break, but this is a time where students can be highly distracted and overwhelmed – by projects, final exams, and all the excitement that this time of year brings. Stay focused and be thoughtful in your instruction.
Focus on community. Winter and the holidays can be both an exciting and difficult time for students. They may be excited by the prospect of family time, winter activities, gift giving (and receiving), and celebrations. But for other students, this is a stressful time of year if their families are struggling financially, or missing family members. So don't forget to create opportunities to make kids feel like their classroom community is a special place where they have people who they can trust and an environment that is supportive of their mental and emotional states.
Be clear of your expectations for your students this time of year. From providing study guides for final exams or project outlines for semester projects, over-communicate what students need to be working on and why. And remember, if you are a middle or high school teacher, your students are being pulled in numerous different directions among all of their classes, so it may be difficult for them to keep track of all their responsibilities. Communicating clearly and regularly to your students will help them be their best!
Take time for yourself. This is a busy time of year for you too, so don't forget about your own needs. From helping students prepare for end-of-semester projects and exams, to completing report cards and other progress monitoring activities, you are busy in your work life, and likely your home life too. Take time to have lunch with a friend, read a book, or enjoy a run outdoors – whatever it is that helps you relax and stay focused. Your students need you to be a calming force in the chaos before the winter break, so take care of yourself!
The last few weeks before the winter holiday can be a special time for students, teachers, and their school community. By taking a thoughtful, intentional approach to closing out this semester, you may find it to be a joyful and productive time in the school year.

Leadership Development
Mid-July is approaching, and for Pivot that means the California School Boards Association (CSBA) Summer Leadership Institute is here. Members of our team, Dr. Arun Ramanathan, Carla Hulce, and Deborah Sims, will be heading to Sacramento July 15th-16th to team up with Lauren Weisskirk from EdReports.org,  Mt. Diablo Unified School District superintendent, Dr. Nellie Meyer, and San Juan Unified Board President, Pam Costa, on a series of workshops at the CSBA summer institute entitled: Getting It Right for Kids: How School Board Members Can Support the Successful Implementation of California's New Standards.
Pivot's partnership with the CSBA for the Summer Leadership Institute is a unique and exciting opportunity for hundreds of school board members from districts across California. Over the two days, Pivot will present them with information on best practices in Common Core and Next Generation Science Standards implementation in three key areas: assessments, professional development and curriculum adoption. Participants will have a chance to work through myths and facts in standards implementation and assessment. They will learn about best practices in 21st century professional development from Dr. Nellie Meyer, Carla Hulce, and Pam Costa. They will be exposed to the work of EdReports.org and its powerful, timely reviews of curriculum. After these workshops, board members are sure to walk away with great new ideas in supporting their districts' efforts to implement the standards, support teachers and improve student outcomes.  
For more information about the event, please visit the CSBA website.
Leadership Development
Neither top-down nor bottom-up strategies work well to lead large-scale change initiatives in public education. It takes a combination. Pivot's human-centered Change Design model offers districts a structured and intentional approach to engaging diverse stakeholders in designing, iteratively testing and refining, and scaling change.
Leadership Development
Since the Common Core State Standards (CCSS) and the ELD Standards were created and adopted, academics, think tanks and education reform providers have framed the transition as a series of "shifts." With good reason, much of the emphasis has been on the instructional shifts. But focusing on instruction ignores a whole set of other shifts that must occur for the new standards to reach their full promise.
At Pivot, we believe districts must design and implement change across three dimensions: systems, leadership and teacher practice. If the Common Core is to be a the dramatic change for students that its advocates intend, and if more students are to be supported to go deeper and reach higher, then school systems must be led in new ways.
Leadership Development
Pivot hosted the first in a series of Change Design webinars, Building Trust with Your Community, to review key lessons for leaders working to engage their communities in big change. In this webinar, you can hear from two school districts that are building strong relationships through the design and implementation of strategic work. We also explored specific resources and tools that can guide change design projects towards success. You can download the webinar here – or contact acarter@pivotlearningpartners.org for more information.
In the face of significant need and big goals, we are making major (and essential) changes in public education. However, research and experience show us that change efforts are not often successful – like 70% of the time.[1] When is the last time that you have seen a project fail in design or implementation?
In the news recently, we have seen big change efforts struggle because of an overemphasis on technical solutions at the expense of the change process. In reflecting on our own work with districts, we think that there are a few key lessons for leaders working to bring about big change.
1. Focus on What Matters: Early on, leaders need to really listen to the community – to best understand and focus on those root problems that matter to the district, its students, and the broader community. This is important because it helps us decide both what to do and what not to do. This motivates and builds trust by limiting the focus of the district's work on real challenges.
2. Tap into the Rich Experience of Your People: Build a diverse team to drive the work. This will not only generate better ideas, but this shared experience of collaboratively reaching meaningful outcomes will build trust among team members who span the organization.
3. Trust Your Team: While leaders certainly need to clearly articulate the parameters of a change, including what success looks like, they should be careful to not define the solution. Providing autonomy to those close to the work to best address the challenge will build trust.
4. Immerse Yourself in the Community: To produce the best outcomes and build trust, the team must step into the shoes of your stakeholders – learn and practice empathy! In particular, be sure to actively engage stakeholders who often don't have a voice or a seat at the table. Also important, meet all stakeholders where they are and in a way that encourages meaningful dialogue.
5. Do Something with What You Hear: This may sound obvious, but based on what you hear, make modifications! Then, share revised drafts with your community through multiple cycles. It's important to be transparent about revisions – especially when changes aren't possible. This builds trust by showing the community that they are part of the solution.
Of course, none of this is easy. But, we believe that using these strategies can not only lead to innovative change but can also help build the relationships and trust needed to make these changes stick.
---
1. "The Inconvenient Truth About Change Management — Why it isn't working and what to do about it" by Scott Keller and Carolyn Aiken (2008)
Copyright © 2020 Pivot Learning TM
Scroll