Pivot
It's a new year. Some things are certain. The children in our schools will get older. By March, I will have stopped writing 2016 on checks and letters. And Pivot Learning will continue to innovate as we work to achieve our mission of equitable access to college and career for all students.
It's amazing what we accomplished last year. We worked with more than seventy school districts throughout the state, both large and small, and our first charter network. We developed a new logo, website, and look for our organization that reflects our future focus. We launched ground-breaking new initiatives, like our Beyond High School program to redesign high schools and the California Curriculum Collaborative website, to provide districts with information on the right curricula to implement the California State Standards. Our Smarter School Spending project and the Rural Professional Learning Network, among others, continued to have an impact. We secured our first federal subcontract in collaboration with the American Institutes of Research to support states in school improvement. Our reputation attracted amazing new talent into our organization from all over the state and the nation. Amidst this exciting work, it's no wonder that we're looking forward to 2017.
One more certainty is that there will be change for our nation, state, district/charter partners and for Pivot in 2017 and the years ahead. A new administration in Washington could pose significant challenges to the equity agenda and there will be a new education department with a focus on choice and vouchers. In California, the election for a new Governor and State Superintendent will kick off. Meanwhile, our current state leadership will have to develop a plan to implement the new Every Student Succeeds Act (ESSA). Of course, we will all closely watch the economy and how that will affect funding for states and schools.
As always, Pivot will adapt and innovate while remaining true to our mission and vision. We believe that the work we do changes the lives for the most vulnerable students across the state. We look forward to continuing this work with partners, districts, and supporters to ensure that every student is ready for college and career.
Best Regards,
Arun
Pivot
During this holiday season, we are taking a moment to reflect on the impact we have had at Pivot Learning, and to thank you for going on this journey with us.
This has been an eventful year at Pivot – we shortened our name, got a new logo and look, and partnered with 72 districts to improve outcomes for students! Our Center for Equitable Education Spending helped districts identify millions of dollars in their budget to reallocate to important priorities, and Beyond High School is transforming the student learning experience across California. We partnered with fifty leaders, from high school principals to school board members to think about how the LCAP could be better, and we continue with our commitment to supporting rural schools.
One thing is clear: we couldn't have done any of this without your support. From all of us at Pivot to you and yours, we wish you peace and a prosperous 2017!
Pivot
Pivot Learning has worked on behalf of educational equity for more than twenty years. Our mission is to revitalize our public-school systems so that all students have the opportunity to succeed in college and career.  We have long served—and remain committed to—the highest poverty and highest need districts and schools in California and beyond. We believe that all students, regardless of their gender, race, color, sexual orientation, religion, home language, or immigration status deserve the highest quality education.
Our schools are the bedrock of our democracy and our children are the hope for the future of our nation. We now know we live in a time when these core beliefs have been questioned and will be tested. We are aware of the impact of the recent election on many of the children and families in our schools and communities. Every child deserves to go to school, knowing that they and their families are safe from bigotry and hate. We will continue to work with in close partnership with school districts, government, and the non-profit community to achieve our collective vision of a more just and equitable education system and society.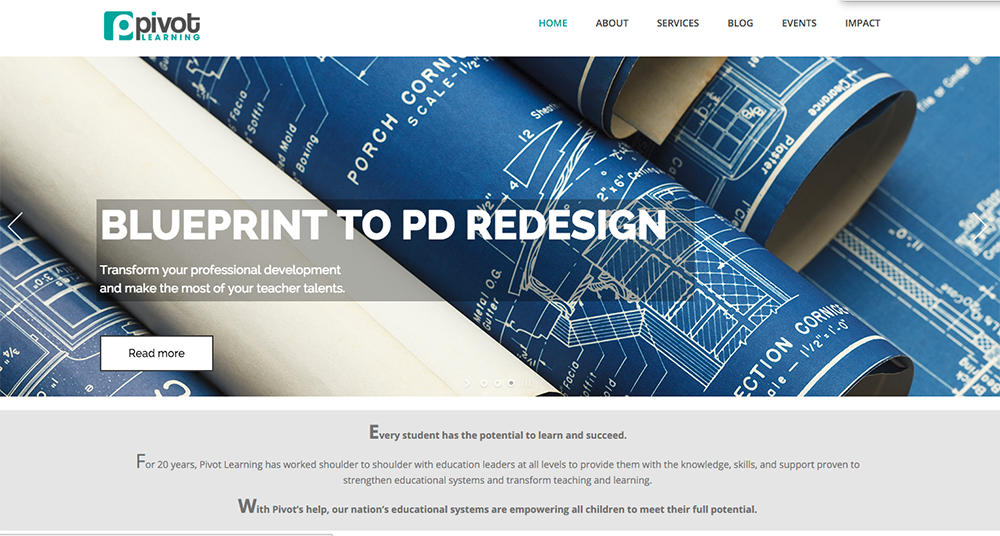 Pivot
Notice anything different about us?
Today, we've unveiled the new face of Pivot Learning, one that reflects our work at the forefront of change in education. We're equity-driven, technology-focused, and forward-thinking, and our new logo aligns our identity with that mindset. It's a logo that's clean, modern, and future-driven. You'll start to see it in all our content, services, and communications.
But a logo is only a small part of our new identity. Today, we've launched a brand new website that focuses on what Pivot Learning does.
We've worked very hard to bring you a website that shows our increasing technology focus. The new pivotlearning.org is fresh, mobile-ready, and builds a solid foundation for future innovation.
We'll be rapidly iterating on our new online home, so check back frequently for lots of new changes and exciting features. I'm very proud to share the new Pivot Learning, and look forward to your feedback.
Arun Ramanathan