Pivot
Written by Arun Ramanathan, CEO, Pivot Learning, featured in EdSource
Since schools were closed two months ago to curb the spread of the coronavirus, changes have come so fast it has been difficult to get our bearings. But as the educational picture has come into focus, it is clear that students are losing critical months of learning. The students who can least afford to lose that learning — English Learners, foster youth and students with disabilities — are taking the biggest hits. Addressing this situation will take state leadership.
The planning should begin with recognizing the limits of virtual learning. Overburdened parents are thankful for anything that engages their children, but ensuring availability of internet access and devices are the just the first steps. Every other element is dependent on the capacity of teachers, students and parents.
Distance learning is difficult enough for middle-class parents in a single-family home, but it is far more difficult for low-income families in smaller residences — not to mention homeless families. For students with disabilities such as attention-deficit/hyperactivity disorder (ADHD) or autism, the situation may be untenable educationally and emotionally. Nor can we expect non-English speaking parents to teach their children English. The longer we stay in this situation, the more we will deepen the structural and racial inequities in our education system.
Given this harm, education leaders must shift their focus to the summer and fall. There is likely to be some level of distance learning during the next school year, but districts should not be scrambling to provide devices and hotspots; that should be a state responsibility.
To read the full Commentary visit EdSource.
Pivot
It's May — almost the end of the school year. In an ordinary year, districts and schools would be in the throes of assessing for student growth, planning teacher professional development and laying the groundwork for a successful school year.
But this is no ordinary year.
Educators everywhere have had to make unprecedented shifts to teaching and learning during coronavirus school closures. Priorities have changed from helping students master things like sight words and multiplication tables to protecting the basic health and safety of staff, students and their families. As districts worked to meet a new hierarchy of needs, they had to prioritize their actions to ensure that very real and basic multidimensional needs — from healthy meals to internet and device access — were met throughout their communities.
Given the disruption COVID-19 caused to teaching and learning, schools will be finishing out the year with significant unfinished instruction and learning. Students will advance to higher grade levels next fall without ever having been taught important grade-level concepts or assessed to demonstrate proficiency of required skills.
Now that the year is ending, district leaders need to look back and reflect on what happened, how it impacted instruction and learning, and how they can prepare teachers to make up learning loss next year, keeping in mind that learning could continue remotely. Most importantly, educators need to answer this key question: "How can we understand where our students are in terms of their learning, and how we can support educators over the summer to address those unmet needs through an equitable lens?"
Develop a Data-Informed Equitable Learning Recovery Plan
Fallout from COVID-19 has exacerbated the existing disparities in our education systems, which threatens to further widen the opportunity gap. System leaders everywhere have a duty to ensure that learning outcomes for the most vulnerable students are not disproportionately affected. And to ensure that, system leaders should utilize multiple measures of data. These measures should include what Victoria L. Bernhardt calls the four major measures of data: student learning, demographics, perceptions, and school processes. Assessment and analysis of these four measures will enable educators to paint a more complete picture of what happened during these last few months and better understand students' needs and how to address them.
We have put together a toolkit to support school districts in conducting a learning recovery assessment and gathering data to answer the following questions:
For students — What do you know about their access to and experience with high-quality, engaging and standards-aligned ELA and Math instruction since March?
For teachers — What ELA and Math materials have teachers taught since March? What did they not get to? How has the system supported their learning?
For parents — What has been their experience with this transition to remote learning?
Join our upcoming webinar, "Finishing the Unfinished: Tools to Create an Equitable Learning Recovery Plan," Wednesday, May 13 at 12:00 PT to learn more about conducting this assessment and get actionable tools to help you develop a data-informed plan to equitably address unfinished teaching and learning.
Pivot
The insights in this article are summarized from conversations held by Sophie Green and Priyanka Kaura, Pivot Learning, with Zeynep F. Beykont, Ed.D., Independent Educational Researcher, Eduardo Muñoz-Muñoz, Ph.D., Assistant Professor, CBAP Coordinator, Lurie College of Education, SJSU, and Joanna Yip, Ph.D., Multilingual Learner Instructional Specialist. We appreciate all of the extraordinarily hard working English Learner advocates, experts, educators, and others who are championing the rights of our English Learner students and their families.
Districts across the country are now in their first weeks of full distance learning, with others working hard to follow suit. We spoke with experts in New York, Florida, and California to learn more about the initial challenges observed in English Learners' participation in distance learning and the supports needed to address those challenges.
English Learners face some of the most severe barriers to instructional access.
English Learners – making up nearly 10% of the U.S. student population – are among the most vulnerable to school system failure while schools are open. Many best practices for teaching English Learners require hands-on learning and opportunities to practice using language with peers and with teacher guidance. Distance learning is exacerbating the disparity in access to grade-level learning opportunities that support English Learners. 
And the impacts are layered. For English Learners from low-income families, access to virtual learning can be fundamentally difficult, as devices, internet, physical space for at-home learning, and materials like calculators and books are provided inconsistently or not at all. Reports show that absenteeism is currently very high, particularly among students in low-income communities. And for English Learners from immigrant families, school closures may provoke additional anxieties about their families' safety and well-being, which can of course affect their learning. 
Some districts and advocates are working hard to set up early warning systems to detect community and student needs. Districts can then connect communities with appropriate resources, including access to devices and internet, financial support, and social and emotional support tools through district community services, government services, mutual aid networks, and direct instruction. Others are using a caseload approach such that students and their families receive regular outreach from assigned educators and/or school administrators. 
In Pajaro Valley Unified School District (PVUSD) in California, district administration has prioritized district-level multilingual family outreach. Their efforts have benefited from pre-existing partnerships with local organizations, including a community health clinic, Salud Para La Gente, that created a Mixteco-language video about staying healthy during COVID-19. In Fullerton Joint Union, the district is supporting educator creativity in meeting student needs.
Most educators do not have the experience to support ELD in brick and mortar classrooms, let alone virtual classrooms.
Supporting English Language Development (ELD) will require creativity in instructional delivery, but there are still many opportunities to support student learning. Instruction should remain focused on the evidence-based strategies that work for students: engaging English Learners in a balance of synchronous instruction and asynchronous, project-based activities that include reading, writing, listening, and vocabulary development across the curriculum. 
English Learner researchers and experts are envisioning a series of innovative ways to provide excellent ELD online by anticipating language demands and providing authentic, context- and content-rich opportunities to use language in virtual settings. For example, educators can offer opportunities for students to record conversations or reading aloud engaging texts, speak clearly and with exaggerated physical and visual cues, and leverage existing, familiar online tools to support different modalities of language instruction – for example, with Google Docs' "suggesting" function, chat box conversations, expressive videos with closed captioning, and recording technology to capture student talk. 
For more specific suggestions for how to meet English Learner student needs, check out SEAL's 6 Key Considerations for Supporting English Learners with Distance Learning and the English Language Acquisition and Math Guidelines developed by the English Learner Success Forum (ELSF). 
Some districts are experimenting with creative scheduling, organizing the day to include more one-on-one time with students in lieu of larger, classroom-sized virtual instruction, and greater family outreach – all of which can be crucial for ensuring continuity of learning for English Learners and their families.
Districts should also make sure that their educators are considering the number and diversity of linguistic interactions in their lessons by encouraging expert-informed communities of practice online, offering explicit guidance, and supporting assessment of student language needs. For example, districts can offer support for using the assessment tools available from the National Center on Intensive Intervention and using the University of Washington CBM Growth Calculator with the guidance of an expert as well as offer guidelines for sifting through the myriad lists of virtual learning resources.
To support districts now, we have curated a list of resources for English Learner instruction. These resources are intended for English Learners in K-12 and their teachers and parents and include interactive, cognitively demanding, grade-level activities across the curriculum. Check out those resources here.
Educators can use this moment as an opportunity for professional learning.
This moment gives educators the opportunity to participate in virtual professional learning around how to best support English Learners, to easily record themselves while teaching to self-assess, and to work closely with their English Learners' families. Many professional learning opportunities – including those provided by Pivot Learning/CORE – are available online for free or at a discount.
Districts should work with English Learner specialists to ensure all educators have access to the resources they need to adapt to their English Learners' educational needs – including opportunities to plan together and collaborate. Districts can structure class schedules to allow for professional learning, recommend high-quality learning opportunities, and support online professional learning communities among educators and English Learner experts.
COVID-19 has created an unprecedented transformation for all our students, and we cannot anticipate all the ways that our classrooms will continue to shift. Districts must make sure that those changes do not leave English Learners and their families behind.
Continued Reading: Resources for Educators and Leaders
Pivot
This free guide offers key stakeholders simple tips for ensuring a successful transition to virtual teaching and learning. Download the guide to get advice for adapting the following systems for online environments:
Collaborating on instructional best practices
Providing observation and feedback
Offering digital curricula support
Communicating expectations
Keeping students engaged and supported
Assessing student learning and growth
Building systems to accommodate virtual learning is just one step in addressing the challenge of school closures and the move to distance learning. As you continue to think about the future of instruction at your site, please reach out to us with questions about the adoption and implementation of high-quality materials. We're here to help you ensure every student has access to quality curricula and excellent teachers, whether learning in or out of the classroom. Learn more about our services.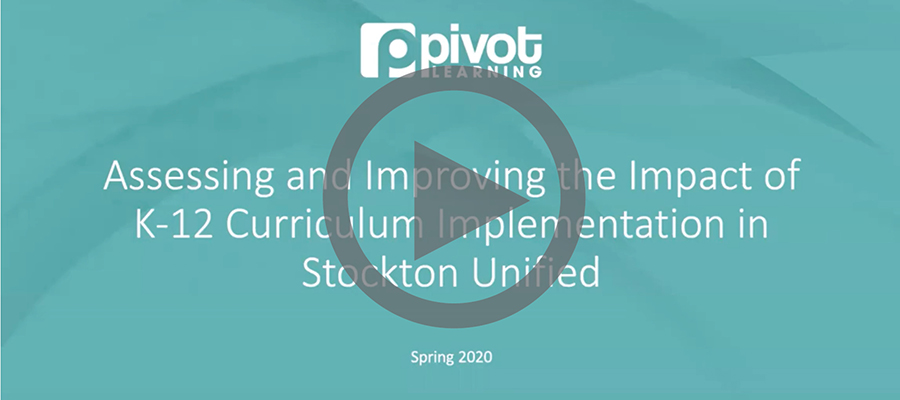 Pivot
School closures caused by coronavirus have made issues of equity in education even more distinct. Many educators are working to solve these new challenges. For example, how do districts ensure every student has access to high-quality curriculum and continue to support teachers holistically? And how do schools keep a pulse on students' needs during this pandemic to keep learning going?
Last week, Pivot experts delivered a presentation at the Carnegie Foundation's virtual Summit on Improvement in Education with some solutions to consider. Watch the presentation on-demand to walk through an adaptive, multi-year approach to curriculum implementation that involves all stakeholders and learn how it can be adapted during a crisis. You'll also learn the impact this continuous improvement model has had on educators and students within Stockton Unified School District in Stockton, California.
Pivot
Reading is a complex process, but it can be explained through a simple equation built around five foundations of reading. It's critical that educators understand the science behind how students learn to read and what skills they need to succeed in order to teach students to be skilled readers. At Pivot Learning, we care deeply about kids and how they learn to read. We also care deeply about teachers and how they learn to teach reading.
To help educators better understand the science of reading and instructional practices based on it, our subsidiary, CORE, has created a Science of Reading Resource Library. This online library includes webinars featuring literacy experts like Dr. David Kilpatrick, Dr. Michelle Hosp, and Kareem Weaver. You'll also find other videos, links to articles, an infographic, and much more to support you and your team's learning about the science of reading.
All of the materials in the Science of Reading Resource Library are available for free online. We encourage you to share them with colleagues and others in your professional learning community.
Pivot
Pivot
As the number of English learners attending public schools continues to increase, educators from the central office to the general education classroom can benefit from understanding the best approaches for teaching literacy to this diverse population of students.
During this recorded webinar, Dr. Elsa Cárdenas-Hagan and Dr. Dale Webster explore each of the components of Structured Literacy along with evidence-based strategies for lesson design and effective implementation. You will learn:
The essential components of Structured Literacy
Special considerations for implementation of Structured Literacy among English Learners
Cross-linguistic features for the development of second language and literacy skills
Routines for incorporating language opportunities within Structured Literacy lessons
Sample lessons are provided and demonstrated which makes this webinar a great professional learning opportunity for your team.
Webinar Presenters:
Dr. Elsa Cárdenas-Hagan
President
Valley Speech Language and Learning Center
Dr. Dale Webster
Chief Academic Officer
CORE
Pivot
Recent research indicates that students have inequitable access to grade-level materials and instruction along the lines of race and class. It's now more clear than ever that closing the stubbornly persistent opportunity gap requires systemic change. Research also shows us that quality curriculum has a larger cumulative impact on student achievement and we see this first hand in our work with districts. The adoption and implementation of high-quality curricula can be an equity lever for districts to address inequities in the system.  
This is positive news but the adoption and implementation of curricula by itself won't suffice. A successful strategy to ensure equitable outcomes for all students requires both technical and adaptive solutions with not just a quick fix, but long term cultural and mindset shifts. 
School districts must devote time to directly address the opportunity gaps that are caused by systemic bias and racism. Our education system is intrinsically designed with bias – from deciding what to teach to which students, to assuming the ability of students, to providing inequitable access to high-quality instructional materials. The systemic change needed to ensure equitable outcomes will require districts to align financial and human resources with high-quality curriculum, professional learning and assessments, while also addressing the internalized mindsets and beliefs of the adults in the system. 
In our work, we collaborate with districts and offer sustainable solutions for successful implementation and equitable student outcomes. Here are three effective change management strategies you can leverage in your district:  
1. Facilitate systems coherence: Align your instructional supports, vision, and school structures and resources as a critical measure to ensure sustainable implementation of high-quality instructional materials that produce equitable student outcomes. 
2. Explore the challenges: Discover the "why" behind the changes and comprehend "what" needs to be done differently. Then, design a plan that addresses "how" to implement the systemic changes that are needed to ensure equitable, high-quality instruction, materials, professional learning, and assessments.
3. Change mindsets: Facilitate shifts in beliefs and the professional practices of your teachers and leaders by helping everyone feel incentivized and supported to develop the mindsets, skills, and capabilities to change.
When inciting successful change, addressing adaptive challenges are critical to ensure the sustainable implementation of high-quality instructional materials. This is why we have partnered with UnboundEd to support districts to build their capacity to create equity focused systems.  As part of our partnership model, district partners experience immersive professional development designed to build, improve, and sustain equitable instructional excellence in ELA, math, and leadership. Our collaborative work combines UnboundEd's standards aligned resources and equitable instructional practices with Pivot's job-embedded, curriculum aligned implementation support services. Through thoughtful understanding of how to sustainably build capacity for equitable student outcomes, our combined lenses and supports facilitate the adult learning and behavioral changes required at scale. 
To learn more about our curriculum implementation support services and our partnership with UnboundEd, contact us.
Pivot
Word problems and real-life scenario tasks are increasingly being integrated into math instruction today and are even the center pieces of many math curricula. For these types of math tasks, students must create and use mathematical models to represent and solve the problem situations. However, problem-solving with math applications remains exceedingly challenging for students.
During this on-demand webinar presented by Pivot Learning's subsidiary, CORE, Dean Ballard, CORE's Director of Mathematics, will share techniques to help students tackle math word problems. In addition to providing research and resources related to mathematical problem-solving, Dean will shares examples of:
Enhancing the Three Reads protocol
Adapting problems
Using visuals
Getting student buy-in
Identifying problem-types
Word problems deepen understanding and provide students with the opportunity to apply their mathematical knowledge to real-world problems. Watch the webinar to learn how to take the terror out of word problems for students.
Fill out the form to access the webinar recording.
Copyright © 2020 Pivot Learning TM
Scroll