In the News
Our recent Crisis on the Coast event held on March 7th at the Community Center at Soper Field in Seaside, CA received coverage by the Monterey Herald. The panel discussion and forum was based on the report "Crisis on the Coast: The Bay Coastal Foster Youth and Homeless Student Populations" that outlines the findings of a study conducted by Pivot Learning and National Center for Youth Law. Learn more about the report and download a copy.

Excerpted from the Monterey Herald

SEASIDE — Monterey County is in a huge crisis as the dramatic rise in family homelessness along the coast and rural areas continues to grow each day.

The National Center for Youth Law and Pivot Learning hosted a presentation for the report "Crisis on the Coast: The Bay Coastal Foster Youth and Homeless Student Populations" inside the Community Center at Soper Field on Thursday afternoon.

The event, which was co-hosted with Monterey Peninsula Unified School District, featured a panel of experts on homeless and foster youth populations and a public forum.

The panel featured Adrienne "Bing" Goldsworth, who's the National Center for Youth Law program manager for FosterEd in Monterey County and was on hand to talk about ways to help reduce the number of homeless and foster youth students in the area.

Other panelist included Darius Brown of the Monterey County of Education, MPUSD board trustee Wendy Root Askew, MPUSD Social Emotional Support director Donnie Everett and MPUSD homeless liaison Carlos Diaz.

Brown, who's the coordinator for McKinney-Vento Homeless Education Services, said getting all the experts, liaisons and families in the same room to talk about the subject means people are acknowledging it is an issue.

"If your district is not talking about the situation then that means you haven't acknowledged family homelessness as an issue," he said.

Pivot Learning CEO Arun Ramanathan and program manager Hannah Melnicoe were at the forum to present the report findings.

Read the Full Story
Pivot
The LCFF Test Kitchen provides local education agencies (LEAs) with the support and space to find and implement solutions that address the challenges of the Local Control and Accountability Plan (LCAP) process from a different perspective—that of the end user.
Over the course of a year, three districts have embraced a user-centered design approach to foster local innovation and develop better solutions to persistent LCAP challenges.
The results of their work are now available in two new briefs.
Together, these publications offer ideas about how LEA's can leverage user-centered design to improve their LCAPs and other initiatives.
For more information about the LCFF Test Kitchen, please visit lcfftestkitchen.org.
LCFF Test Kitchen is a partnership with:
CCEE, CCDR, Pivot Learning, and WestEd.
Pivot
Pivot
23% spike in homelessness leaves 1 in 10 in Monterey County students with no place to call home
New findings highlight the role of region's soaring housing costs, lower wage jobs and scant social services infrastructure in the growing crisis
In the News:
KQED  |  For Many Students in Salinas, Homeless is Becoming the Norm  |  As Homelessness Rises, Salinas Officials Make Strides in Identifying Vulnerable Students  |  How Housing Prices are Hurting Salinas Schoolkids
SF Chronicle  |  School funding ignores growing need of homeless students in rural California
KSBW  |  New Report Shows Surge in Homeless Families on the Central Coast
Voices of Monterey Bay  |  2019: The Year of Housing
The Californian  |  'Devastating' number of homeless students in Monterey County
Monterey Herald  |  Homeless, foster youth population grows in Monterey County
The Californian  |  Monterey County's homeless student population is massive, so what are officials doing?
Monterey Herald  |  Monterey City Council to hear ideas to rein in housing costs
A homelessness crisis is exploding, mostly out of the public view, in Monterey County, just down the bay from the upscale high-tech capital of San Francisco. Surprising findings from a new study by Pivot Learning and the National Center for Youth Law show that economic pressures such as skyrocketing rents, low-wage jobs and the overall high cost of living are prompting a spike in student homelessness. Concurrently, the region experienced a pronounced increase in the number of children in foster care.
While news coverage has brought to light the San Francisco Bay Area's urban homeless problem, students in less media-centric Monterey County are three times as likely to be homeless as other bay area students. Among the other key findings from the study, titled "Crisis on the Coast: The Bay Coastal Foster Youth and Homeless Student Populations":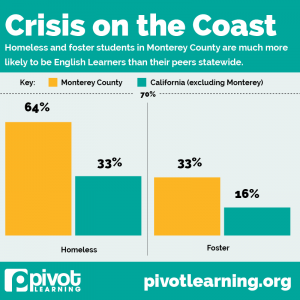 Between 2015 and 2017 Monterey County homelessness rose 23%
The number of children in foster care nearly doubled between 2011 and 2015
9.9% of Monterey County students are homeless (compared to 3.4% in San Francisco)
Homeless students make up 20 percent or more of the student body in 12 schools in Monterey County
Two-thirds of the county's homeless cited high rents as a contributor to their situation
90 percent of Monterey County's homeless students are Latino
English Learners make up 64 percent of the county's homeless youth and 33 percent of its foster youth
"Monterey brings to mind pristine golf courses and some of the most beautiful coast in California," said Pivot Learning CEO Arun Ramanathan. "But lurking just beneath that picturesque veneer is a homeless crisis for our young people. Though we think of homelessness as a uniquely urban problem, students in Monterey County are much more likely to be unstably housed than students in San Francisco, Alameda or Santa Clara Counties."
The contrast couldn't be more stark. Monterey County's Pebble Beach, with a median house price of $3.1M, is only a half-hour drive from Sherwood Elementary, where 36% of students are homeless.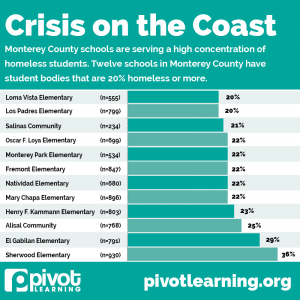 Further exacerbating the student homelessness problem outside of urban areas is that a skeletal social services infrastructure is ill-equipped to cope with the surge in housing instability driven in part by market forces. Rents in the area are rising at the swiftest rate in the state and many of the jobs available are lower-wage agriculture or food service positions. To afford a median-priced $1,580 two-bedroom apartment in Monterey County, a family needs a full-time job paying $27.56 per hour. Median farm and food service jobs pay less than half that amount, causing many families to double up and share an apartment or move into a friend's garage, thereby making the homeless crisis less visible but every bit as real. For students in these unstable circumstances, the challenge of keeping up with their peers is daunting.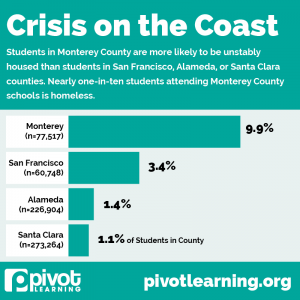 "Every child deserves the opportunity of a high-quality education," said Michelle Francois Traiman of the National Center for Youth Law. "But homeless and system-involved youth face overwhelming barriers to their education. We need to come together as a community to support these students in a holistic way that supports their education so they can become contributing members of society and realize their full potential."
This crisis requires swift action from government, philanthropic institutions and the nonprofit community to forge collaborative strategies that will help our most vulnerable young people help themselves and find a road to a better future.
This project has been generously supported by the Stuart Foundation.
About Pivot Learning:
Founded in 1995, Pivot Learning is a nonprofit organization of K-12 education experts who work directly with districts and charters to address their biggest challenges, including raising student achievement and closing unconscionably large achievement gaps. Pivot's mission is to revitalize our public school systems so that all students have the opportunity to succeed in college and career. We partner with education leaders at all levels of the system to provide the knowledge, skills and support proven to strengthen educational systems and transform teaching and learning.
About the National Center for Youth Law:
The National Center for Youth Law (NCYL) has worked for more than four decades to improve the lives of marginalized children and youth. NCYL leads campaigns, weaving together research, public awareness, policy development, technical assistance and litigation to ensure governmental systems provide the support these children and youth need to thrive.
###
For more information, contact Hannah Melnicoe at hmelnicoe@pivotlearning.org or 510-808-4112.
Leadership Development
Pivot Learning's expert team of district and school improvement specialists came together for a webinar on continuous improvement in special education.
This targeted webinar focused on building the capacity of special education leaders, teachers, and related service providers to serve as instructional leaders. You will learn how our most specialized educators can work with general educators to redesign education systems to effectively serve all students.
Access the webinar slides here.
Pivot
It's a new year. Some things are certain. The children in our schools will get older. By March, I will have stopped writing 2016 on checks and letters. And Pivot Learning will continue to innovate as we work to achieve our mission of equitable access to college and career for all students.
It's amazing what we accomplished last year. We worked with more than seventy school districts throughout the state, both large and small, and our first charter network. We developed a new logo, website, and look for our organization that reflects our future focus. We launched ground-breaking new initiatives, like our Beyond High School program to redesign high schools and the California Curriculum Collaborative website, to provide districts with information on the right curricula to implement the California State Standards. Our Smarter School Spending project and the Rural Professional Learning Network, among others, continued to have an impact. We secured our first federal subcontract in collaboration with the American Institutes of Research to support states in school improvement. Our reputation attracted amazing new talent into our organization from all over the state and the nation. Amidst this exciting work, it's no wonder that we're looking forward to 2017.
One more certainty is that there will be change for our nation, state, district/charter partners and for Pivot in 2017 and the years ahead. A new administration in Washington could pose significant challenges to the equity agenda and there will be a new education department with a focus on choice and vouchers. In California, the election for a new Governor and State Superintendent will kick off. Meanwhile, our current state leadership will have to develop a plan to implement the new Every Student Succeeds Act (ESSA). Of course, we will all closely watch the economy and how that will affect funding for states and schools.
As always, Pivot will adapt and innovate while remaining true to our mission and vision. We believe that the work we do changes the lives for the most vulnerable students across the state. We look forward to continuing this work with partners, districts, and supporters to ensure that every student is ready for college and career.
Best Regards,
Arun
Pivot
During this holiday season, we are taking a moment to reflect on the impact we have had at Pivot Learning, and to thank you for going on this journey with us.
This has been an eventful year at Pivot – we shortened our name, got a new logo and look, and partnered with 72 districts to improve outcomes for students! Our Center for Equitable Education Spending helped districts identify millions of dollars in their budget to reallocate to important priorities, and Beyond High School is transforming the student learning experience across California. We partnered with fifty leaders, from high school principals to school board members to think about how the LCAP could be better, and we continue with our commitment to supporting rural schools.
One thing is clear: we couldn't have done any of this without your support. From all of us at Pivot to you and yours, we wish you peace and a prosperous 2017!
Pivot
Pivot Learning has worked on behalf of educational equity for more than twenty years. Our mission is to revitalize our public-school systems so that all students have the opportunity to succeed in college and career.  We have long served—and remain committed to—the highest poverty and highest need districts and schools in California and beyond. We believe that all students, regardless of their gender, race, color, sexual orientation, religion, home language, or immigration status deserve the highest quality education.
Our schools are the bedrock of our democracy and our children are the hope for the future of our nation. We now know we live in a time when these core beliefs have been questioned and will be tested. We are aware of the impact of the recent election on many of the children and families in our schools and communities. Every child deserves to go to school, knowing that they and their families are safe from bigotry and hate. We will continue to work with in close partnership with school districts, government, and the non-profit community to achieve our collective vision of a more just and equitable education system and society.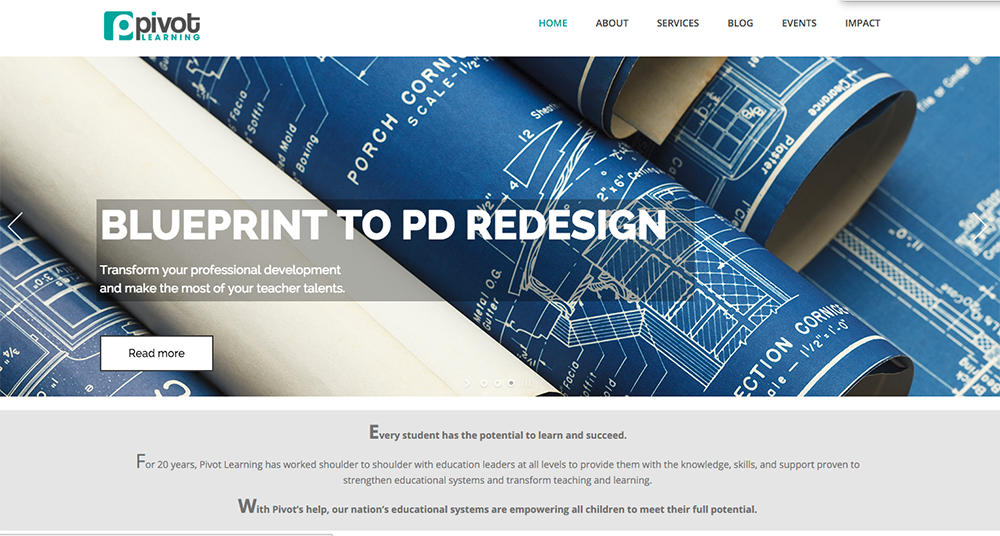 Pivot
Notice anything different about us?
Today, we've unveiled the new face of Pivot Learning, one that reflects our work at the forefront of change in education. We're equity-driven, technology-focused, and forward-thinking, and our new logo aligns our identity with that mindset. It's a logo that's clean, modern, and future-driven. You'll start to see it in all our content, services, and communications.
But a logo is only a small part of our new identity. Today, we've launched a brand new website that focuses on what Pivot Learning does.
We've worked very hard to bring you a website that shows our increasing technology focus. The new pivotlearning.org is fresh, mobile-ready, and builds a solid foundation for future innovation.
We'll be rapidly iterating on our new online home, so check back frequently for lots of new changes and exciting features. I'm very proud to share the new Pivot Learning, and look forward to your feedback.
Arun Ramanathan
Copyright © 2020 Pivot Learning TM
Scroll