Pivot
Spelling is a key component of reading instruction. Yet, in a time of spell check and LOL, the importance of spelling is often short changed. Learning to spell is essentially a language learning process. We do not remember words simply as strings of letters. Teaching spelling involves teaching about language — its phonemes, graphemes, syllable structures, morphemes, and syntactic structures — and showing students why words are spelled the way they are.
During this hour long webinar, Dr. Louisa Moats discusses:
The latest research about how children learn to spell
How spelling supports reading and writing
How spelling can be used as a diagnostic tool
A comprehensive approach to teaching spelling that complements reading instruction
Watch this on-demand webinar, sponsored by Pivot Learning subsidiary Consortium on Reaching Excellence in Education (CORE), to learn how spelling can be taught so that it helps all students, even those with word reading difficulties, become strong readers, writers and thinkers.
Pivot
This is the first 30-minute video in an ongoing series of free on-demand professional learning videos from Pivot Learning* that will feature expert advice about supporting students with word reading difficulties.
School closures due to COVID-19 this spring highlighted the importance of maintaining high quality-instruction for students with word reading difficulties. As districts determine how to provide instruction this school year, former Dyslexia Specialist for the Oregon Department of Education and CORE's Director of Literacy, Dr. Carrie Thomas Beck, shares three must-have features of effective instruction for students with word reading difficulties, including students with dyslexia, that can be used in both in-person and remote lessons.
In this quick 30-minute video, Dr. Thomas Beck:
Shares an underlying framework for conceptualizing reading
Defines the primary characteristics of dyslexia and explains the source of word reading difficulties
States the formula for word reading success based on reading research conducted by Dr. David Kilpatrick
Describes components of effective instruction and intervention — whether delivered in person or remotely — for students with word reading difficulties, including dyslexia
Complete the form below to watch the video.
*Pivot Learning refers to both Pivot Learning and our subsidiary, the Consortium on Reaching Excellence in Education (CORE). Learn more about CORE at corelearn.com.
Pivot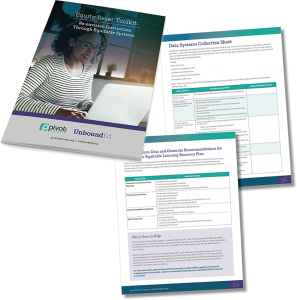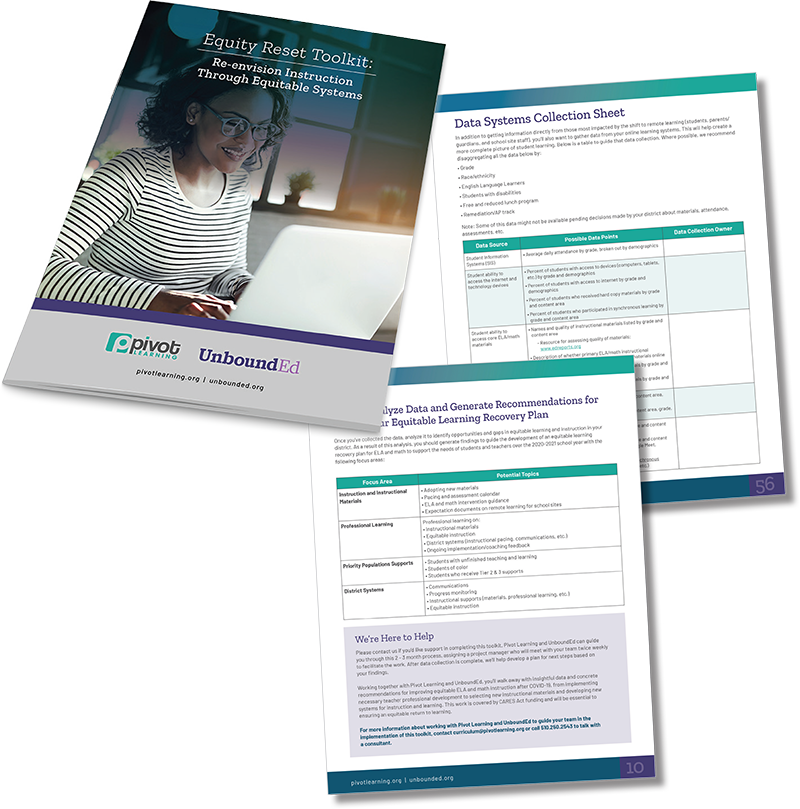 While the 2020 pandemic affected all aspects of life, arguably one of its biggest disruptions was to our public education system and the more than 50 million students in it. Our most vulnerable student populations were especially impacted by school closures and social distancing, where they were often left without access to equitable instruction.
COVID-19 certainly highlighted and deepened the inequities in access to high-quality education. But districts can take this moment to not only respond to the needs resulting from learning disruptions last spring, but re-envision how their systems support educational equity.
Download Our Free Equity Reset Toolkit
Pivot Learning* and UnboundEd have created a free Equity Reset Toolkit that provides district leadership teams resources for a nine-week data collection and analysis process focused on equitable learning recovery in K-12 ELA and math. Download this toolkit to create a data-driven equitable education recovery plan for restructuring or building systems to support equitable ELA and math instruction that can be adapted for in-person, remote, or blended learning.
You are downloading a zip file that contains 7 PDFs. The first PDF in the file is the full toolkit. We have also provided each of the surveys included in the full toolkit PDF as individual files.
On-Demand Webinar:
Learn How to Use the Equity Reset Toolkit

Watch this hour-long on-demand webinar to learn how to use the Equity Reset Toolkit to discover unfinished instruction needs as a result of school closures and how to develop a plan to address these needs equitably.
We're Here to Support Your Work Toward Equitable Learning Recovery
Want assistance completing the steps in our Equity Reset Toolkit? Pivot Learning and UnboundEd will work remotely alongside district leadership to facilitate data collection, guide data analysis, and make customized recommendations for an equitable learning recovery plan based on stakeholders' unique insights.
As part of our services, we will:
Guide the 2-3 months of equitable learning recovery research and analysis outlined in the Equity Reset Toolkit
Lead weekly virtual meetings to keep your team on track
Deliver actionable, customized recommendations for building an equitable learning recovery plan for ELA and math to support student and teacher needs, including:

Instruction and intervention materials
Professional learning
Supports for priority students
District systems

Provide ongoing professional learning for your district leadership team on equitable instruction and high quality assessments for learning
Because this work is so critical to learning recovery, the cost of these services can be covered by CARES Act learning loss funding. Learn more about partnering with Pivot and UnboundEd in this flyer.
Fill out the form below to talk with one of our instructional experts about working with us to implement our Equity Reset Toolkit in your district.
*Pivot Learning refers to both Pivot Learning and our subsidiary, the Consortium on Reaching Excellence in Education (CORE). Learn more about CORE at corelearn.com.
Pivot
What can we learn from California school districts' early response to COVID-19? 
Find out during this on-demand webinar, presented by Pivot Learning and Policy Analysis for California Education (PACE). To aid in both local and state decision-making, Pivot Learning and PACE have been documenting promising practices at school districts in California. In this webinar, we'll highlight how two districts, Pajaro Valley Unified and Mother Lode Union, initially addressed students' immediate needs following school closures and how they are approaching strategic planning for the months ahead.
You will hear from:
Two district superintendents about how they planned their early response, what they will prioritize in their summer planning, and how they will begin to tackle the work that lies ahead in the 2020-21 school year
Speakers from the county level about how county and state agencies can best collaborate with school districts in the upcoming months
Pivot Learning researchers about the findings from our research briefs about these two districts
Watch the webinar to hear a discussion about the challenges and the early problem-solving that we have seen at the local level in the early stages of COVID-19 response. 
Speakers:
If you are unable to join the live webinar, please go ahead and register. We will email you a recording to watch at your convenience.
Pivot
How will you ensure teachers and students have access to high-quality instructional materials that support distance learning this fall?
This spring, COVID-19 changed our collective expectations for teaching and learning. School closures resulting from the COVID-19 pandemic have forced educators to face innumerable challenges. One of the more persistent challenges: adapting instructional materials for distance learning.
Watch this webinar with the California Department of Education and CalCurriculum to get advice for implementing a data-driven plan for fall ELA and math instruction that provides access to high-quality materials to every student regardless of their distance learning situation.
In this webinar you'll:
Reflect on the current context for distance learning
Review the role of instructional materials in distance learning
Assess the quality of your materials and prepare those materials for distance learning
Discover supports available to help with planning for the beginning of next school year
Pivot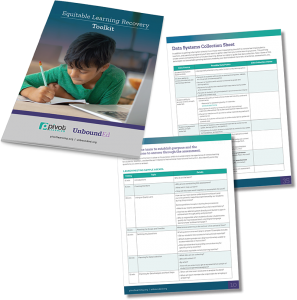 At the end of a typical school year, districts and schools are in the throes of assessing for student growth, planning teacher professional development, and laying the groundwork for a successful school year.
But 2019-20 was no ordinary school year.
District leaders need to look back and reflect on what happened, how it impacted instruction and learning, and how they can prepare teachers to make up learning loss next year through equitable instruction, keeping in mind that learning could continue remotely.
Download our Equitable Learning Recovery Toolkit, which includes everything you need to conduct surveys with all stakeholders about teaching and learning this spring and synthesize that data to guide professional development and lesson planning for next fall. Also watch the on-demand recording of our webinar, "Finishing the Unfinished: Tools to Create an Equitable Learning Recovery Plan," for more background on the purpose of the toolkit and how to implement it in your district or school.
Download Your Equitable Learning Recovery Toolkit
The toolkit will download as a zip file. Unzip the file to access the full toolkit PDF as well as the teacher, student, parent/guardian, and coach/student leader surveys.
Watch Our On-Demand Webinar
to Learn More About the Equitable Learning Recovery Toolkit
Once you've completed this toolkit, be on the lookout for a second one from Pivot Learning and UnboundEd. The next toolkit will help you continue this important work by putting together a plan to launch equitable instruction and learning this fall.
Pivot and UnboundEd strive to help districts ensure educational equity for all students. Pivot partners with educators to design and implement solutions for achieving educational justice. UnboundEd offers training and tools to empower educators to center equity in their instructional practices.
Have questions about the toolkit or about working with Pivot and UnboundEd to ensure equitable curriculum adoption and implementation next year? Complete the form below and we'll get in touch!
Pivot
The insights in this article are summarized from conversations held by Sophie Green and Priyanka Kaura, Pivot Learning, with Zeynep F. Beykont, Ed.D., Independent Educational Researcher, Eduardo Muñoz-Muñoz, Ph.D., Assistant Professor, CBAP Coordinator, Lurie College of Education, SJSU, and Joanna Yip, Ph.D., Multilingual Learner Instructional Specialist. We appreciate all of the extraordinarily hard working English Learner advocates, experts, educators, and others who are championing the rights of our English Learner students and their families.
Districts across the country are now in their first weeks of full distance learning, with others working hard to follow suit. We spoke with experts in New York, Florida, and California to learn more about the initial challenges observed in English Learners' participation in distance learning and the supports needed to address those challenges.
English Learners face some of the most severe barriers to instructional access.
English Learners – making up nearly 10% of the U.S. student population – are among the most vulnerable to school system failure while schools are open. Many best practices for teaching English Learners require hands-on learning and opportunities to practice using language with peers and with teacher guidance. Distance learning is exacerbating the disparity in access to grade-level learning opportunities that support English Learners. 
And the impacts are layered. For English Learners from low-income families, access to virtual learning can be fundamentally difficult, as devices, internet, physical space for at-home learning, and materials like calculators and books are provided inconsistently or not at all. Reports show that absenteeism is currently very high, particularly among students in low-income communities. And for English Learners from immigrant families, school closures may provoke additional anxieties about their families' safety and well-being, which can of course affect their learning. 
Some districts and advocates are working hard to set up early warning systems to detect community and student needs. Districts can then connect communities with appropriate resources, including access to devices and internet, financial support, and social and emotional support tools through district community services, government services, mutual aid networks, and direct instruction. Others are using a caseload approach such that students and their families receive regular outreach from assigned educators and/or school administrators. 
In Pajaro Valley Unified School District (PVUSD) in California, district administration has prioritized district-level multilingual family outreach. Their efforts have benefited from pre-existing partnerships with local organizations, including a community health clinic, Salud Para La Gente, that created a Mixteco-language video about staying healthy during COVID-19. In Fullerton Joint Union, the district is supporting educator creativity in meeting student needs.
Most educators do not have the experience to support ELD in brick and mortar classrooms, let alone virtual classrooms.
Supporting English Language Development (ELD) will require creativity in instructional delivery, but there are still many opportunities to support student learning. Instruction should remain focused on the evidence-based strategies that work for students: engaging English Learners in a balance of synchronous instruction and asynchronous, project-based activities that include reading, writing, listening, and vocabulary development across the curriculum. 
English Learner researchers and experts are envisioning a series of innovative ways to provide excellent ELD online by anticipating language demands and providing authentic, context- and content-rich opportunities to use language in virtual settings. For example, educators can offer opportunities for students to record conversations or reading aloud engaging texts, speak clearly and with exaggerated physical and visual cues, and leverage existing, familiar online tools to support different modalities of language instruction – for example, with Google Docs' "suggesting" function, chat box conversations, expressive videos with closed captioning, and recording technology to capture student talk. 
For more specific suggestions for how to meet English Learner student needs, check out SEAL's 6 Key Considerations for Supporting English Learners with Distance Learning and the English Language Acquisition and Math Guidelines developed by the English Learner Success Forum (ELSF). 
Some districts are experimenting with creative scheduling, organizing the day to include more one-on-one time with students in lieu of larger, classroom-sized virtual instruction, and greater family outreach – all of which can be crucial for ensuring continuity of learning for English Learners and their families.
Districts should also make sure that their educators are considering the number and diversity of linguistic interactions in their lessons by encouraging expert-informed communities of practice online, offering explicit guidance, and supporting assessment of student language needs. For example, districts can offer support for using the assessment tools available from the National Center on Intensive Intervention and using the University of Washington CBM Growth Calculator with the guidance of an expert as well as offer guidelines for sifting through the myriad lists of virtual learning resources.
To support districts now, we have curated a list of resources for English Learner instruction. These resources are intended for English Learners in K-12 and their teachers and parents and include interactive, cognitively demanding, grade-level activities across the curriculum. Check out those resources here.
Educators can use this moment as an opportunity for professional learning.
This moment gives educators the opportunity to participate in virtual professional learning around how to best support English Learners, to easily record themselves while teaching to self-assess, and to work closely with their English Learners' families. Many professional learning opportunities – including those provided by Pivot Learning/CORE – are available online for free or at a discount.
Districts should work with English Learner specialists to ensure all educators have access to the resources they need to adapt to their English Learners' educational needs – including opportunities to plan together and collaborate. Districts can structure class schedules to allow for professional learning, recommend high-quality learning opportunities, and support online professional learning communities among educators and English Learner experts.
COVID-19 has created an unprecedented transformation for all our students, and we cannot anticipate all the ways that our classrooms will continue to shift. Districts must make sure that those changes do not leave English Learners and their families behind.
Continued Reading: Resources for Educators and Leaders
Pivot
This free guide offers key stakeholders simple tips for ensuring a successful transition to virtual teaching and learning. Download the guide to get advice for adapting the following systems for online environments:
Collaborating on instructional best practices
Providing observation and feedback
Offering digital curricula support
Communicating expectations
Keeping students engaged and supported
Assessing student learning and growth
Building systems to accommodate virtual learning is just one step in addressing the challenge of school closures and the move to distance learning. As you continue to think about the future of instruction at your site, please reach out to us with questions about the adoption and implementation of high-quality materials. We're here to help you ensure every student has access to quality curricula and excellent teachers, whether learning in or out of the classroom. Learn more about our services.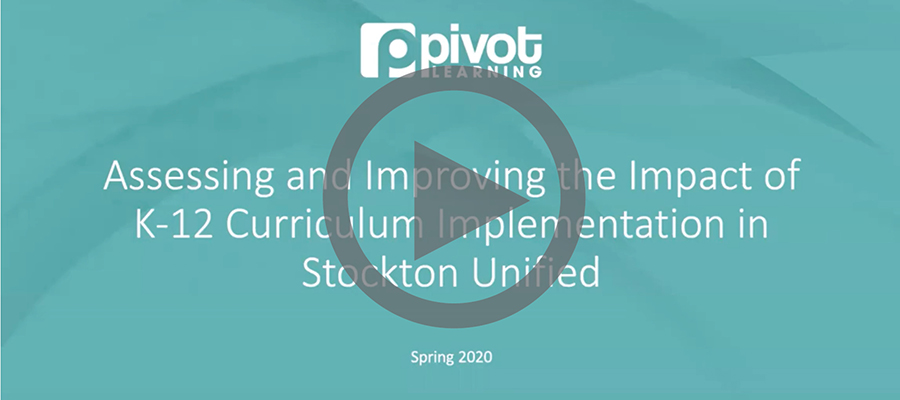 Pivot
School closures caused by coronavirus have made issues of equity in education even more distinct. Many educators are working to solve these new challenges. For example, how do districts ensure every student has access to high-quality curriculum and continue to support teachers holistically? And how do schools keep a pulse on students' needs during this pandemic to keep learning going?
Last week, Pivot experts delivered a presentation at the Carnegie Foundation's virtual Summit on Improvement in Education with some solutions to consider. Watch the presentation on-demand to walk through an adaptive, multi-year approach to curriculum implementation that involves all stakeholders and learn how it can be adapted during a crisis. You'll also learn the impact this continuous improvement model has had on educators and students within Stockton Unified School District in Stockton, California.
Pivot
Reading is a complex process, but it can be explained through a simple equation built around five foundations of reading. It's critical that educators understand the science behind how students learn to read and what skills they need to succeed in order to teach students to be skilled readers. At Pivot Learning, we care deeply about kids and how they learn to read. We also care deeply about teachers and how they learn to teach reading.
To help educators better understand the science of reading and instructional practices based on it, our subsidiary, CORE, has created a Science of Reading Resource Library. This online library includes webinars featuring literacy experts like Dr. David Kilpatrick, Dr. Michelle Hosp, and Kareem Weaver. You'll also find other videos, links to articles, an infographic, and much more to support you and your team's learning about the science of reading.
All of the materials in the Science of Reading Resource Library are available for free online. We encourage you to share them with colleagues and others in your professional learning community.
Copyright © 2020 Pivot Learning TM
Scroll