Reset Equity in Your Schools
Thank you for your interest in our Equity Reset Toolkit. In it, you'll find resources and tools for district teams to implement a nine-week data collection and analysis process focused on equitable learning recovery in K-12 ELA and math.
Pivot Learning* and UnboundEd are available to partner with your district's team to create a roadmap to re-launch instruction as you re-open. In weekly virtual meetings, your team will have access to our tools, professional learning, and an expert project manager to help you re-envision systems to ensure every student as access to equitable ELA and math instruction (in-person, remote, or blended) moving forward.
Contact curriculum@pivotlearning.com to get started.
Download Your Equity Reset Toolkit
You are downloading a zip file that contains 7 PDFs. The first PDF in the file is the full toolkit. We have also provided each of the stakeholder surveys included in the full toolkit PDF as individual files. The full toolkit also includes an implementation timeline and scope, data systems collection worksheet, data analysis protocol and recommendations, and ELA and math assessments recommendations.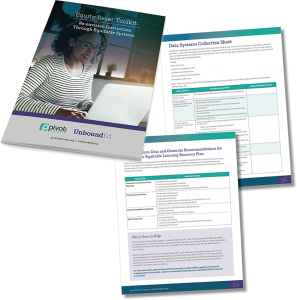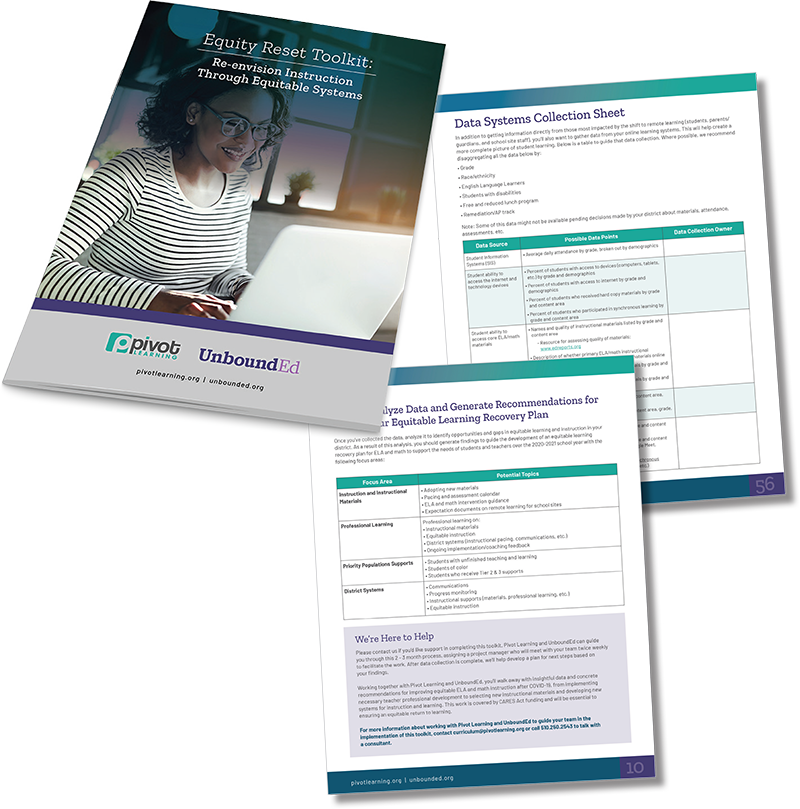 We're Here to Support Your Work Toward Equitable Learning Recovery
Want assistance completing the steps in our Equity Reset Toolkit? Pivot Learning and UnboundEd will work remotely alongside district leadership to facilitate data collection, guide data analysis, and make customized recommendations for an equitable learning recovery plan based on stakeholders' unique insights.
As part of our services, we will:
Guide the 2-3 months of equitable learning recovery research and analysis outlined in the Equity Reset Toolkit
Lead weekly virtual meetings to keep your team on track
Deliver actionable, customized recommendations for building an equitable learning recovery plan for ELA and math to support student and teacher needs, including:

Instruction and intervention materials
Professional learning
Supports for priority students
District systems

Provide ongoing professional learning for your district leadership team on equitable instruction and high quality assessments for learning
Because this work is so critical to learning recovery, the cost of these services can be covered by CARES Act learning loss funding. Learn more about partnering with Pivot and UnboundEd in this flyer. Contact curriculum@pivotlearning.org to get started.
*Pivot Learning refers to both Pivot Learning and our subsidiary, the Consortium onReaching Excellence in Education (CORE). Learn more about CORE at corelearn.com.