Thank you for your interest in our Equitable Learning Recovery Toolkit and webinar. We applaud you for being proactive about planning for 2020-21, using data to determine exact teacher and student needs, and approaching learning through an equity lens. By catering instructional planning to our most vulnerable students, we can ensure that everyone's needs are met — no matter where learning takes place.
Download Your Equitable Learning Recovery Toolkit
The toolkit will download as a zip file. Unzip the file to access the full toolkit PDF as well as the teacher, student, parent/guardian, and coach/student leader surveys.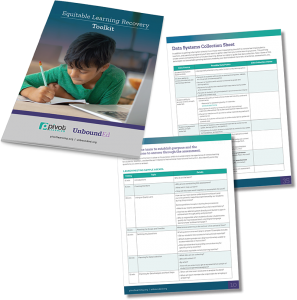 Watch Our On-Demand Webinar
Learn More About the Equitable Learning Recovery Toolkit
Once you've completed this toolkit, be on the lookout for a second one from Pivot Learning and UnboundEd. The next toolkit will help you continue this important work by putting together a plan to launch equitable instruction and learning this fall.
Pivot and UnboundEd strive to help districts ensure educational equity for all students. Pivot partners with educators to design and implement solutions for achieving educational justice. UnboundEd offers training and tools to empower educators to center equity in their instructional practices.
Have questions about the toolkit or about working with Pivot and UnboundEd to ensure equitable curriculum adoption and implementation next year? Email curriculum@pivotlearning.org. We'll be in touch!