Recommendations from the LCFF Test Kitchen for Aligning Reporting Requirements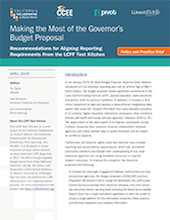 Governor Newsom's January budget proposal outlines plans for a single web-based application that can merge various district reporting tools to increase efficiency and public understanding. Drawing on the experiences of the LCFF Test Kitchen, a new brief offers four recommendations for making the most of this proposal:
1. Articulate the goals and desired outcomes of a single web-based reporting platform to align reporting structures.
2. Engage end users throughout the development process.
3. Foster competition to generate an innovative, single web-based reporting platform design.
4. Create structures and supports to build trust between school districts and their communities.
Through a process that values end users and fosters innovation, we can both support and improve upon the Governor's proposal, thereby helping to create the conditions for continued progress in our schools and communities.
For more information about the LCFF Test Kitchen, please visit lcfftestkitchen.org.
You can also find the brief and more information about LCFF on the California Collaborative on District Reform (CCDR) website.
LCFF Test Kitchen is a partnership with:
CCEE, CCDR, Pivot Learning, and WestEd.