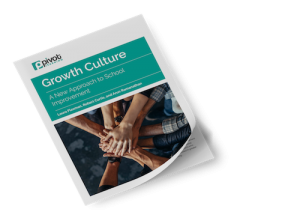 At 7:45 on a Wednesday morning in April 2018, superintendent PK Diffenbaugh gathered educators from across Monterey Peninsula Unified School District (MPUSD) to do something almost unprecedented in American education. For the next nine months, the school would partner with Pivot Learning to build a "Deliberately Developmental Organization" that supports a "growth culture" by learning to apply the latest research on adult development to their lives, relationships, and practice.
There is increasing evidence that highlights a strong connection between student and adult learning. Adults who are learning, growing and collaborating to improve their practice exemplify what is known as a growth culture. This is why MPUSD and Pivot Learning launched a pilot program to evaluate and grow MPUSD's culture with the goal of creating a better place for adults, and ultimately students, to learn and grow. Key components of the pilot program included:
Administering a growth survey to all staff and conducting observations and interviews to qualitatively assess the district's culture
Providing a cohort of cross-functional teams from schools and district departments with professional learning focused on mission-critical equity challenges and grounded in research-based adult development best practices
Identifying both personal and organizational goals for improvement and designing tests
or experiments to implement and iterate
Completing a post-pilot survey to assess program impact
This pilot is the first example nationally of a school system measuring its culture and systematically piloting strategies to improve that culture over time. Read the full whitepaper for a deep-dive into the pilot program, its impact at MPUSD and the implications it could have on professional learning and student outcomes. Specifically, the whitepaper reviews:
What a growth culture is, why it's important, and why, until MPUSD, it has been largely ignored in education
The four core components of the pilot program and the role Pivot Learning and MPUSD played in each
Results of a pre- and post-pilot survey showing evidence of cultural improvement within the district
The potential of programs like this one to solve the complex challenges school districts face to improve student outcomes
Click here to read the whitepaper.