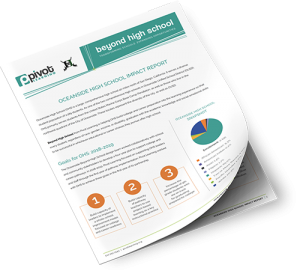 Oceanside High School (OHS) is a large, comprehensive high school 40 miles north of San Diego, California. Pivot Learning's Beyond High School Design Team has established a four-year plan to support pathways and college and career readiness for OHS' diverse student population. In its first year, the school's partnership with Beyond High School supported OHS leaders and staff through career pathway implementation, including the addition of four new pathways: Public Service, Business Innovation and Entrepreneurship, Environmental Science and Engineering, and Arts, Digital Media and Design. By the end of the 2018-19 school year, the number of students prepared for college and career increased by almost 15 points. The number of students not prepared for college and career saw a healthy decrease as well.
Read the full impact report to learn more about the work Pivot Learning is doing in partnership with OHS. Read about how it's building capacity among educators to implement and sustain successful pathways and ensure students graduate prepared for life after high school, whether that's in a technical, two-year or four-year college, or in a career.
You also can watch this short video to hear from educators at OHS about the impact they've seen from their work with Pivot Learning and Beyond High School.