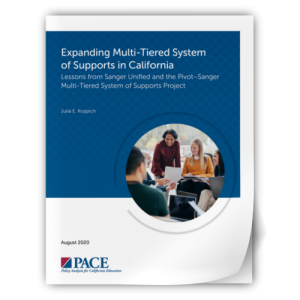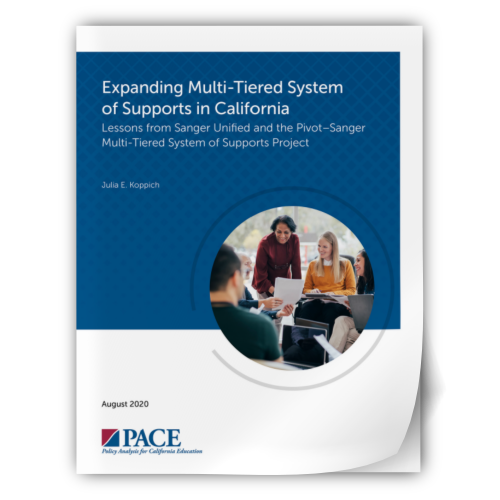 Addressing equity challenges has been the consistent thread that runs through major California education policies of the last decade. However, educational inequities, already significant prior to COVID-19, have been exacerbated by the pandemic's education disruptions. How can we make Multi-Tiered System of Supports (MTSS) — a framework for all students focused on maximizing achievement and success in school by integrating evidence-based instruction with ongoing assessment — more accessible to school districts as they strive to equitably support all students?
This new report from the Policy Analysis for California Education (PACE) examines a project led by Pivot Learning from 2018 to 2020 that involved the Sanger, Monterey Peninsula, and Lancaster school districts. Sanger has coherently and cohesively implemented MTSS in a way that adapts the framework to the district's culture. The Pivot-led project sought to determine if direct support from Sanger could inform MTSS implementation in other school districts.
Findings from PACE's research of the project found that leaders at Monterey Peninsula and Lancaster did report benefits from Sanger's expertise and Pivot Learning's guidance and technical assistance. Download the report to learn more about the results of the pilot and potential ways this peer-to-peer model could be used to further California's efforts to broaden MTSS implementation as a lever for equity.
Webinar Date & Time: Thursday, November 16 | 4:00–5:00 p.m. ET • 1:00–2:00 p.m.....