23% spike in homelessness leaves 1 in 10 in Monterey County students with no place to call home. New findings highlight the role of region's soaring housing costs, lower wage jobs and scant social services infrastructure in the growing crisis.
A homelessness crisis is exploding, mostly out of the public view, in Monterey County, just down the bay from the upscale high-tech capital of San Francisco. Surprising findings from a new study by Pivot Learning and the National Center for Youth Law show that economic pressures such as skyrocketing rents, low-wage jobs and the overall high cost of living are prompting a spike in student homelessness. Concurrently, the region experienced a pronounced increase in the number of children in foster care.
While news coverage has brought to light the San Francisco Bay Area's urban homeless problem, students in less media-centric Monterey County are three times as likely to be homeless as other bay area students. Among the other key findings from the study: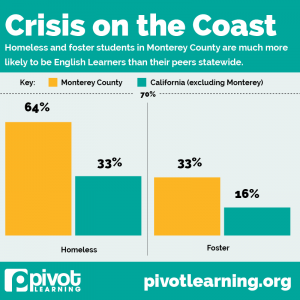 Between 2015 and 2017 Monterey County homelessness rose 23%
The number of children in foster care nearly doubled between 2011 and 2015
9.9% of Monterey County students are homeless (compared to 3.4% in San Francisco)
Homeless students make up 20 percent or more of the student body in 12 schools in Monterey County
Two-thirds of the county's homeless cited high rents as a contributor to their situation
90 percent of Monterey County's homeless students are Latino
English Learners make up 64 percent of the county's homeless youth and 33 percent of its foster youth
"Monterey brings to mind pristine golf courses and some of the most beautiful coast in California," said Pivot Learning CEO Arun Ramanathan. "But lurking just beneath that picturesque veneer is a homeless crisis for our young people. Though we think of homelessness as a uniquely urban problem, students in Monterey County are much more likely to be unstably housed than students in San Francisco, Alameda or Santa Clara Counties."
The contrast couldn't be more stark. Monterey County's Pebble Beach, with a median house price of $3.1M, is only a half-hour drive from Sherwood Elementary, where 36% of students are homeless.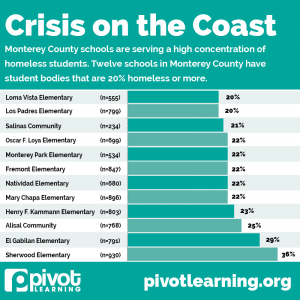 Further exacerbating the student homelessness problem outside of urban areas is that a skeletal social services infrastructure is ill-equipped to cope with the surge in housing instability driven in part by market forces. Rents in the area are rising at the swiftest rate in the state and many of the jobs available are lower-wage agriculture or food service positions. To afford a median-priced $1,580 two-bedroom apartment in Monterey County, a family needs a full-time job paying $27.56 per hour. Median farm and food service jobs pay less than half that amount, causing many families to double up and share an apartment or move into a friend's garage, thereby making the homeless crisis less visible but every bit as real. For students in these unstable circumstances, the challenge of keeping up with their peers is daunting.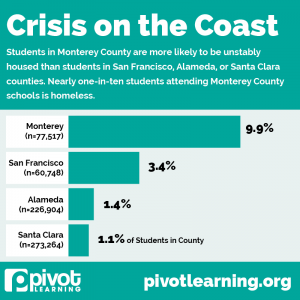 "Every child deserves the opportunity of a high-quality education," said Michelle Francois Traiman of the National Center for Youth Law. "But homeless and system-involved youth face overwhelming barriers to their education. We need to come together as a community to support these students in a holistic way that supports their education so they can become contributing members of society and realize their full potential."
This crisis requires swift action from government, philanthropic institutions and the nonprofit community to forge collaborative strategies that will help our most vulnerable young people help themselves and find a road to a better future.
About Pivot Learning
Founded in 1995, Pivot Learning is a nonprofit organization of K-12 education experts who work directly with districts and charters to address their biggest challenges, including raising student achievement and closing unconscionably large achievement gaps. Pivot's mission is to revitalize our public school systems so that all students have the opportunity to succeed in college and career. We partner with education leaders at all levels of the system to provide the knowledge, skills and support proven to strengthen educational systems and transform teaching and learning.
About the National Center for Youth Law
The National Center for Youth Law (NCYL) has worked for more than four decades to improve the lives of marginalized children and youth. NCYL leads campaigns, weaving together research, public awareness, policy development, technical assistance and litigation to ensure governmental systems provide the support these children and youth need to thrive.
For more information, contact Hannah Melnicoe at hmelnicoe@pivotlearning.org. This project was conducted in partnership with the National Center for Youth Law (NCYL) and generously supported by the Stuart Foundation.
Many schools have implemented small group interventions to help students master the five core....