Networks
I was never that good at math—but I had a deep desire to become not only proficient, but exemplary, especially in calculus.
In my high school, I was one of only a few African-American students. I completed three years of math, and worked tirelessly solving equations in my trigonometry course only to end up with mediocre grades. The school offered few resources to accelerate my academic growth in this pursuit. Nevertheless, I graduated from high school and went to college. I eventually earned a graduate degree in Education and taught for five years in a school in inner-city Detroit.
Many students in California are faced with the opposite challenge. A 2010 Noyce Foundation study titled "Pathway Reports: Dead Ends and Wrong Turns on the Path Through Algebra" found that approximately 65 percent of students who took Algebra I in eighth grade were made to repeat the same course in ninth grade. Additional research revealed that these misplacements were particularly notable for African-American and Latino boys, and posed challenges for high school students, affecting their opportunities in college, careers, and life.
To address this issue, in 2015 Senator Holly Mitchell (D), with support from the Silicon Valley Community Foundation, worked to pass the California Math Placement Act. Governor Jerry Brown signed legislation in that same year requiring school districts to design equitable policies that "systematically take multiple, current or existing, objective measures" to ensure students are advancing to the next prescribed course in the mathematics progression.
Since the law was passed, most school districts in California have struggled with its implementation. The East Side Alliance (ESA), which consists of eight partner districts that together serve nearly 85,000 students in seven elementary schools and one high school district, has been at the forefront of that work. Even before the Math Placement Act was passed, ESA members worked collaboratively through the Student Algebra Project to ensure equitable outcomes for all students.
State policies, particularly in education, succeed or fail in implementation at the school and district levels and the California Math Placement Act is no exception. The Math Placement Practices Network, facilitated by Pivot Learning and funded by the Silicon Valley Community Foundation, began working with ESA early this year to design and sustain a network of schools. This work has focused on developing a shared problem of practice to effectively implement the state's policy–specifically to improve existing pathway criteria so that all students are placed appropriately. Particular attention has been centered on ensuring English Language Learners, students with special needs, and students of color are supported and challenged. We have been working with five ESA school districts: Alum Rock, Mount Pleasant, Berryessa Union, Franklin-McKinley and Oak Grove.
Our collaborative work has included identifying focus areas within math placement and developing specific visions and goals for each district's work next year. As we reviewed data and discussed potential focus areas with district teams, several themes emerged:
In the Eastside Alliance, all 9th grade students are placed in Integrated Math I or II. However, not all students are successful in this placement. In middle school, students need to be better prepared to be successful in this placement.
There is an under-representation of students of color, English Language Learners, and students with special needs in the advanced pathways in middle schools.
The current set of criteria is working for placement for some but not all students, schools, and districts. We need to determine why and if/how the criteria might be modified.
Our partner districts are focusing on these final two sub-problem areas and are also examining the pathway criteria to address the under-representation of students of color and other sub-groups in advanced middle school pathways. To approach this work, we introduced Change Design, a process for moving from our shared problems to developing solutions and achieving our goals. Pivot has leveraged this model (inspired by IDEO and Stanford University's d.school) to solve major system design challenges with schools and districts for the past several years.
Our final meeting with the network this year fused the change design process to develop individualized action plans for 2017-18. Our network will also utilize Collaboration in Common, a state-endorsed online portal, to share best practices and resources across districts to address our collective problem of practice.
Success for our students, particularly our African-American and Latino students, will depend upon equitable systems and protocols particularly as it pertains to math pathways. The Math Placement Practices Network convenes dedicated and committed educators working actively to ensure we guarantee this success for all students.
For more information about our networks, please contact us.
In the News
PIVOT LEARNING ACQUIRES CONSORTIUM ON REACHING EXCELLENCE IN EDUCATION, INC. (CORE) THROUGH A GENEROUS GIFT FROM OWNERS
Oakland, CA – On May 22, 2017, the Pivot Learning Board of Directors approved the acquisition of the Consortium on Reaching Excellence in Education, Inc. (CORE) through a generous gift from the founder and owner Bill Honig, as well as owners Catherine Honig and Linda Diamond. This gift brings together two of the longest tenured and most respected education service providers to districts and schools in California and the nation.
Over the past 23 years, Pivot Learning has become the largest and most experienced non-profit technical assistance provider for school districts in California. Pivot's mission is to revitalize our public school systems so that all students have the opportunity to succeed in college and career. Pivot works at the state, district, and school levels to develop systemic solutions in the areas of standards implementation, education finance, leadership development, and school redesign.
CORE is a national professional learning organization that has been serving schools, districts, and states for 23 years. CORE applies the research on best practices and effective adult learning principles to equip educators with the knowledge and skills to significantly improve academic achievement. Through targeted professional development, job-embedded coaching, principal mentorship, and careful selection of curriculum and assessments, CORE collaborates with school systems to implement high quality reading, writing, language, and math instruction PreK-12.
CORE will become a subsidiary of Pivot Learning and its CEO, Dr. Arun Ramanathan, will serve as Chairman of the CORE Board of Directors. Linda Diamond will serve as President of CORE. Pivot and CORE will continue to deliver their respective services and will work together to implement comprehensive solutions that take advantage of the unique strengths of each organization.
"CORE's decades-long history of providing quality professional learning services to classroom teachers is a natural complement to Pivot's long history of working in partnership with district and school leaders to transform education systems," said Diamond. "We are thrilled by this new phase in our proud history."
Said Ramanathan, "We are grateful to CORE's owners for this generous gift. Together, Pivot Learning and CORE can better support schools and districts across California and nationally to achieve our mission of ensuring that all students graduate college and career ready."
Contact:
Morgan Pulleyblank
mpulleyblank@pivotlearning.org
510.808.4067
###
Press Release
Pivot Learning joins Oceanside Unified, Monterey Unified, and Bonsall Unified, along with the Linked Learning Alliance, to rethink and redesign the 6-12 school experience.   
Oakland, CA – Pivot Learning is proud to announce the launch of the Beyond High School Initiative to transform the secondary school experience in order to ensure that all students can succeed in college and career. With generous support from the James Irvine Foundation, Pivot is partnering with Monterey Peninsula Unified, Oceanside Unified, and Bonsall Unified school districts and the Linked Learning Alliance to develop a comprehensive secondary redesign model utilizing a suite of cutting-edge technology tools.
The goal of Beyond High School is to transform the secondary experience to provide equitable access for all students to career-themed "pathways" or "academies" in areas such as computer science, healthcare, tourism, and agriculture. The model is based on the four pillars of the research-based Linked Learning approach – rigorous academics, career technical training, work-based learning, and personalized student supports. SRI International's recently released seven-year evaluation of Linked Learning in nine California districts found decreased dropout rates, higher graduation rates, and more credits earned for students in linked learning pathways. The Beyond High School program is led by Dr. Laura Flaxman, founder of the nationally renowned Life Academy High School in Oakland, California.
"Our team of secondary experts has deep experience in redesigning schools and Linked Learning," said Dr. Flaxman. "We are thrilled to be launching this important and innovative initiative as a proof point on how to rethink secondary education in California and the nation."
Beyond High School has several key features. First, districts are supported by Pivot experts through a change design process. "Design teams" of district leaders, teachers, students, parents, community members, industry partners, and community college leaders plan, develop, and prototype their model for secondary redesign. In two of the districts, Bonsall and Monterey Peninsula Unified School Districts the teams are redesigning their full secondary pathways from 6-12. In Oceanside Unified School District, the team is redesigning one of their large comprehensive high schools: Oceanside High School.
"We are excited to partner with Pivot to ensure that all of our students are successful both in and beyond high school," Reggie Thompkins, Deputy Superintendent, Oceanside Unified School District noted.
Pivot is also partnering with the Linked Learning Alliance to implement two new technology tools in all three districts. The first, Linked Learning Analytics, analyses vital student data allowing districts and community members to assess the impact of their redesigned secondary pathways on student outcomes. The second, Linked Learning Certification, provides the districts and school leaders with an intuitive online mechanism to officially certify their schools as Linked Learning Pathways. Pivot is also partnering with Abl and School by Design to pilot tools to transform the use of time, including tools to streamline and facilitate the master scheduling.
Press Release
California educators know that curriculum and instructional materials can have a large impact on what and how well students learn. Quality instructional materials must be aligned to national and California content standards and meet the specific needs of districts and charters.
In Pivot's work with dozens of districts throughout California, we have found that teachers and leaders are working hard to identify quality, relevant curriculum. One teacher in our Rural Professional Learning Network (RPLN) noted that her district hasn't yet selected Common Core-aligned materials, "so teachers piece together old curriculum (10-15 years old) and online resources." This struggle isn't limited to Pivot's partners. In a 2015 report, Morgan Polikoff, Associate Professor of Education at the University of Southern California, reported that only about 50% of schools in California have adopted at least one CCSS-aligned math textbook.
Because of the large number of state approved materials, California districts have often been challenged to identify the materials that are best aligned to the Math and English Language Arts content standards. Throughout the curriculum adoption process, districts can benefit from objective, detailed reviews of state approved curriculum. Outside reviews can provide comprehensive information about the quality and alignment of instructional materials so that district leaders can make the best choice for their teachers and students.
The California Curriculum Collaborative, an initiative of Pivot Learning and EdReports.org,  provides the rigorous independent reviews that districts and charter schools need. Using the independent information provided in EdReports.org, the CCC is designed to help districts and charters navigate the curriculum adoption process in California. The CCC also includes reviews of programs not included on California's adopted programs list. Indeed, California allows districts to use off-list curricular materials (not on the state-approved list), and Dr. Polikoff found that more districts and charters are adopting off-list textbooks since the introduction of CCSS.
This spring, Pivot Learning and EdReports.org will host workshops to introduce districts to the California Curriculum Collaborative, including best practices in the adoption process and tools designed to support districts in making the right choices for their students. We hope to build informed collaboration across districts in California and bring clarity to the very important task of choosing an appropriate instructional program.
Curriculum can help drive or inhibit teaching and learning. With the right process that prioritizes high-quality, aligned materials and strong community engagement, districts and schools will be able to ensure that students have the materials they need to succeed.
References
Polikoff, M.S. (2015). How well aligned are textbooks to the Common Core standards in mathematics? American Educational Research Journal, 52(6), 1185–1211. doi:    10.3102/0002831215584435
Polikoff, M.S. (2016, December 9). Textbook adoption in California: Issues and evidence.                       [Presentation]. Retrieved from
http://edpolicyinca.org/events/textbook-adoption-california-issues-and-evidence
Weisskirk, L. (2016, October 21). Purchasing instructional materials: What you choose and how you choose matters. SouthEast Education Network (SEEN). Retrieved from             http://www.seenmagazine.us/Articles/Article-Detail/ArticleId/5932/Purchasing-Instructional-Materials
Pivot
It's a new year. Some things are certain. The children in our schools will get older. By March, I will have stopped writing 2016 on checks and letters. And Pivot Learning will continue to innovate as we work to achieve our mission of equitable access to college and career for all students.
It's amazing what we accomplished last year. We worked with more than seventy school districts throughout the state, both large and small, and our first charter network. We developed a new logo, website, and look for our organization that reflects our future focus. We launched ground-breaking new initiatives, like our Beyond High School program to redesign high schools and the California Curriculum Collaborative website, to provide districts with information on the right curricula to implement the California State Standards. Our Smarter School Spending project and the Rural Professional Learning Network, among others, continued to have an impact. We secured our first federal subcontract in collaboration with the American Institutes of Research to support states in school improvement. Our reputation attracted amazing new talent into our organization from all over the state and the nation. Amidst this exciting work, it's no wonder that we're looking forward to 2017.
One more certainty is that there will be change for our nation, state, district/charter partners and for Pivot in 2017 and the years ahead. A new administration in Washington could pose significant challenges to the equity agenda and there will be a new education department with a focus on choice and vouchers. In California, the election for a new Governor and State Superintendent will kick off. Meanwhile, our current state leadership will have to develop a plan to implement the new Every Student Succeeds Act (ESSA). Of course, we will all closely watch the economy and how that will affect funding for states and schools.
As always, Pivot will adapt and innovate while remaining true to our mission and vision. We believe that the work we do changes the lives for the most vulnerable students across the state. We look forward to continuing this work with partners, districts, and supporters to ensure that every student is ready for college and career.
Best Regards,
Arun
Pivot
During this holiday season, we are taking a moment to reflect on the impact we have had at Pivot Learning, and to thank you for going on this journey with us.
This has been an eventful year at Pivot – we shortened our name, got a new logo and look, and partnered with 72 districts to improve outcomes for students! Our Center for Equitable Education Spending helped districts identify millions of dollars in their budget to reallocate to important priorities, and Beyond High School is transforming the student learning experience across California. We partnered with fifty leaders, from high school principals to school board members to think about how the LCAP could be better, and we continue with our commitment to supporting rural schools.
One thing is clear: we couldn't have done any of this without your support. From all of us at Pivot to you and yours, we wish you peace and a prosperous 2017!
Equitable Education Spending
When Brian Stephens, Ed.D., joined Tracy Unified School District (TUSD) in 2014, he found a district that had been facing declining enrollment and the associated budget cuts. Dr. Stephens also found a driven and committed group of district leaders, who had been doing everything they could to ensure that students in Tracy were receiving a high-quality education. Teachers were innovating, but on their own, and the district was supporting them as best they could in the face of tens of millions of dollars in forced budget cuts.
Local Control Funding Formula had been applied, but was not effectively driving strategic planning. For the 17,000 students that the district served, Dr. Stephens knew he needed to do something profoundly different. Something that would ensure that students in Tracy were prepared for college and career, and that every adult in the school district was working together to achieve this goal.
He also knew that funding doesn't drop from the sky, and that he couldn't be caught every year reacting to the changes in district budgets. Dr. Stephens needed to get in front of the budget process to find money somewhere to turn his vision into reality. And that's where Pivot came in.
Tracy Unified was invited by Pivot to join a group of districts that were working on an innovative new program, Smarter School Spending. This unprecedented collaboration between the nonprofit and the school district has a singular focus on strategic planning and budgeting to support the district's success.
The first step: get the heads of business and academics talking together.
Second step: figure out exactly what they were doing that was moving the needle on student achievement. Put money behind that. And replicate it.
Easier said than done.
Undaunted by the journey ahead, Tracy Unified committed to the work. A Design Team of district leaders met with Pivot Learning to move the process forward. So far, they have identified $1.2M that they can better allocate to meet their instructional goals. And they have committed to early literacy and ensuring 9th grade success as the two most important priorities to impact student success.
To build sustainability and capacity for the work, almost 50 school and district leaders are meeting regularly to develop a deeper understanding of the process and tools, and how they can be applied to their budgeting and planning process in alignment.
Even more important—at least as Dr. Stephens sees it—is the learning that they have done about how to engage in a process like this. He commented: "Even if this work were to end tomorrow, the fundamental way we work together as a district has changed, and this collaboration will be felt for years to come."
Tracy, CA, situated between the San Francisco Bay Area and the Central Valley, is a community originally formed as a stop on the Trans Pacific Railroad. Now, with a population of around 87,000, it is the second largest city in San Joaquin County. TUSD students are 49% Hispanic/Latino, 25% English Language Learners, and 46% of students are eligible for free/reduced lunch.
Pivot Learning is a nonprofit organization of K-12 education experts working shoulder-to-shoulder with schools, districts, and charters to address their biggest challenges in teaching and learning, equitable education spending, and leadership development.
Pivot
Pivot Learning has worked on behalf of educational equity for more than twenty years. Our mission is to revitalize our public-school systems so that all students have the opportunity to succeed in college and career.  We have long served—and remain committed to—the highest poverty and highest need districts and schools in California and beyond. We believe that all students, regardless of their gender, race, color, sexual orientation, religion, home language, or immigration status deserve the highest quality education.
Our schools are the bedrock of our democracy and our children are the hope for the future of our nation. We now know we live in a time when these core beliefs have been questioned and will be tested. We are aware of the impact of the recent election on many of the children and families in our schools and communities. Every child deserves to go to school, knowing that they and their families are safe from bigotry and hate. We will continue to work with in close partnership with school districts, government, and the non-profit community to achieve our collective vision of a more just and equitable education system and society.
Equitable Education Spending
CCEE Board Meeting Overview
Following a closed session performance evaluation of CCEE staff, Executive Director Dr. Carl Cohn gave a progress report in which he shared details of his site visits to various California districts and charters, meetings with advocacy groups, and a Gates Foundation Leadership retreat. The board held a short but lively discussion about the role of the CCEE board and CCEE staff with the general consensus that board members set policy and direction and the staff implement, but that the board desires a more active role or more frequent engagement. The board also discussed the potential impact of SB-871. Next, Josh Daniels, Director of Outreach and Communications for the CCEE, presented on his site visits to county offices across California. He shared that the board reached out to all fifty-eight counties and followed up with site visits to twenty-seven interested COEs. Site visits to another thirteen county offices have been scheduled. Sujie Shin, Director of Research and Assessment, gave a report — in which she referenced working with Pivot Learning as a partner and acknowledged the Rural Professional Learning Network. The Directors of Education also spoke. After a brief break, the board heard public comment on all presentations.
FosterEd Presentation
Following board approval of the proposed preliminary CCEE budget for fiscal year 2016-17, Casey Schutte, Director of FosterEd, gave a presentation on Foster Youth education. California is the first state to include foster youth as a subgroup in its educational accountability framework. Schutte stressed the key role that LEA LCAPs play in planning academic and socioemotional supports for foster youth. He also noted missteps in implementation, such as the use of supplemental and concentration funds for broad actions and goals not targeted for foster youth, and unique challenges that LEAs face with regard to foster youth (e.g. movement between foster homes corresponding with movement between schools and districts.)
Schutte's presentation focused on the significant achievement gap for foster youth, as well as the importance of trauma-informed practice to address factors in foster youth outcomes, such as the trauma that brings youth into the system, abuse, homelessness, and poverty rates. At the close of his presentation, Schutte invited comment and shared resources, including the Alliance for Children's Rights' Foster Youth Toolkit and the Coalition for Educational Equity for Foster Youth's Sample District LCAP for Foster Youth.
After Mr. Schutte's report, the board heard general public comment and closed with announcement of board chair Sandy Thorstenson's retirement from Whittier Unified School District and the CCEE board.
Also in June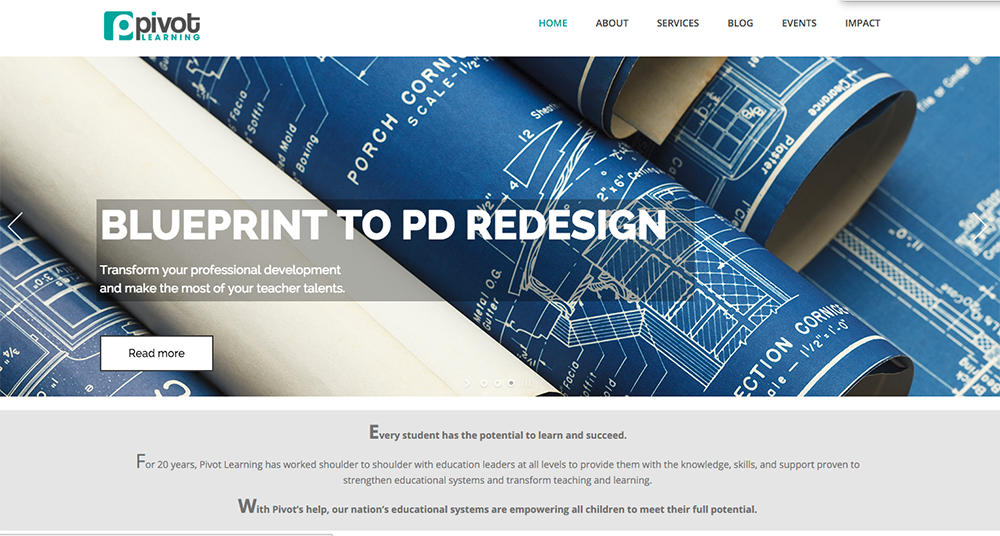 Pivot
Notice anything different about us?
Today, we've unveiled the new face of Pivot Learning, one that reflects our work at the forefront of change in education. We're equity-driven, technology-focused, and forward-thinking, and our new logo aligns our identity with that mindset. It's a logo that's clean, modern, and future-driven. You'll start to see it in all our content, services, and communications.
But a logo is only a small part of our new identity. Today, we've launched a brand new website that focuses on what Pivot Learning does.
We've worked very hard to bring you a website that shows our increasing technology focus. The new pivotlearning.org is fresh, mobile-ready, and builds a solid foundation for future innovation.
We'll be rapidly iterating on our new online home, so check back frequently for lots of new changes and exciting features. I'm very proud to share the new Pivot Learning, and look forward to your feedback.
Arun Ramanathan
Copyright © 2020 Pivot Learning TM
Scroll