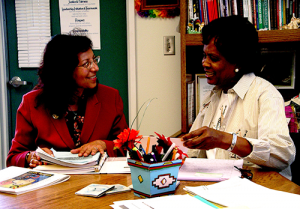 As we approach the first anniversary of the historic passage of the Local Control Funding Formula (LCFF) this June, it is tempting to celebrate by turning in our Local Control Accountability Plan (LCAP), patting ourselves on the back for a job well done and breathing a huge sigh of relief.
After all, with all of the uncertainty, controversy, hard work, and unrealistic deadlines, we sure deserve a little break. Only one year ago, most of us were not aware that California's educational funding system was on the brink of changing. Just six months ago, we still did not have budget guidelines or a draft template to plan towards. Nonetheless, here we are today, and each school district and charter school is preparing to submit a final to their county office of education by July 1.
When those LCAPs are submitted on July 1, it will not be end, but the beginning.
Think of the adjustment to LCFF as a decathlon. While we will have reached the finish line for the short sprint to complete the first LCAP, the race isn't over, and we need to transition to the next event—implementing our new LCAPs. How we approach this next series of events will have a significant impact on the future of LCFF.
At the state and county level, the next stages of the decathlon include reviewing the LCAP guidelines and template, seeking alignment across counties and districts, and identifying model practices to reach the state level. School districts, however, have an entirely different leg of the race ahead of them.
Here are four events in their decathlon next year:
Reflect on what just happened. It has truly been a mad dash for districts to learn about LCFF/LCAP, to develop and conduct an engagement process, and to create their first LCAP. In July, leaders will need to take time to reflect on questions such as: What parts of our LCAP process worked and what challenges did we face? How did our first attempt at LCAP community engagement work? What should our ongoing engagement process look like? What departments within the district worked most closely to develop the LCAP and how might the way we work together look different moving forward?
Gear up for implementation. Districts will need to review their LCAPs and map out how they will implement and gather data on all that is outlined in the plan. They will need to put systems in place to gather data on the metrics that were identified in their LCAPs and a process to report out the results. Similarly, each action in the LCAP will need to be matched with folks responsible for getting it done, and this may require changes or additions to staff and annual work plans. It is particularly urgent to understand the collective impact of implementing both the Common Core State Standards and LCFF simultaneously – and how central office systems may need to shift to support both initiatives.
Develop an annual planning and budgeting calendar. Stretching the six-month LCAP process of this year to a year-long process will work best if LCAP development is aligned with the annual budgeting calendar. In the summer, districts will reflect and plan on the steps outlined above. In late summer/early fall, districts will begin to implement their plans, funded by real dollars that match the students who arrive in their schools. In late fall and early winter, districts will review their data and begin to revise their plans and budgets with their stakeholders. In late winter and early spring, those plans will get matched with a draft budget that coincides with the state's release of its anticipated annual budget. Finally, in late spring, district LCAPs and budgets will be finalized at the same time as the state budget.
Engage early and often. The community and stakeholder engagements that led to the first LCAP this year will need to be maintained and added to next year. While a lot of this engagement can align with the annual planning and budgeting calendar, it should not stop there. After districts have analyzed the effectiveness of their engagement process this year and identified areas for improvement, they should make a special effort to reach out to community members who did not participate this year. They should also seek to build ties with other organizations within their community (including social service agencies) and look for opportunities to combine efforts in support of youth and families.
There is still a lot of work to be done. Many districts will add even more events to their decathlon, including developing a strategic plan out of their LCAP or aligning their current strategic plan with their LCAP. Others will focus on local accountability and on developing assessments to measure student achievement in the absence of a state testing system.
Whatever each district's LCAP process looks like next year, adjusting to LCFF will take time, reflection, transparency, and perseverance. Districts will also not be able to do this alone; local control does not mean district control. Now is the time for all of us to lace up our shoes and prepare for the next leg of the race together.